A Day at the Clerk's Office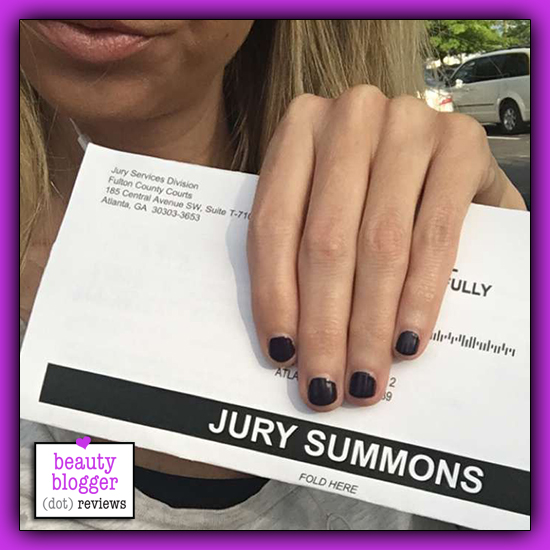 Since moving to Atlanta in 1999, I've been called to jury duty four times, with this past time being today. The first time I was summoned was many years ago when I first moved to Atlanta. I was so nervous about the whole experience that I don't remember much and as verified today they have made a lot of changes to the process. I've been on the standby list twice before and my group was excused both times. I can't recall the group numbers but if I had to guess once was Group 007 and the other was Group 005.
With plenty of notice of my civic duty, my jury summons arrived in the mail at the beginning of May. Again, I was on the standby list, Group 002. On the back there is a survey to fill out which you can fill out online, otherwise you will be asked to fill it out when you arrive at the clerk's office. I also took the time to sign up for text alerts, which arrived the day before at 4:43 PM, informing me that Groups 001 – 004 were required to report the following day at 8:00 AM. Parking is free at Turner Field with the supplied parking pass that comes attached to the jury summons. A shuttle constantly runs back and forth to take jurors back and forth to the courthouse and parking lot.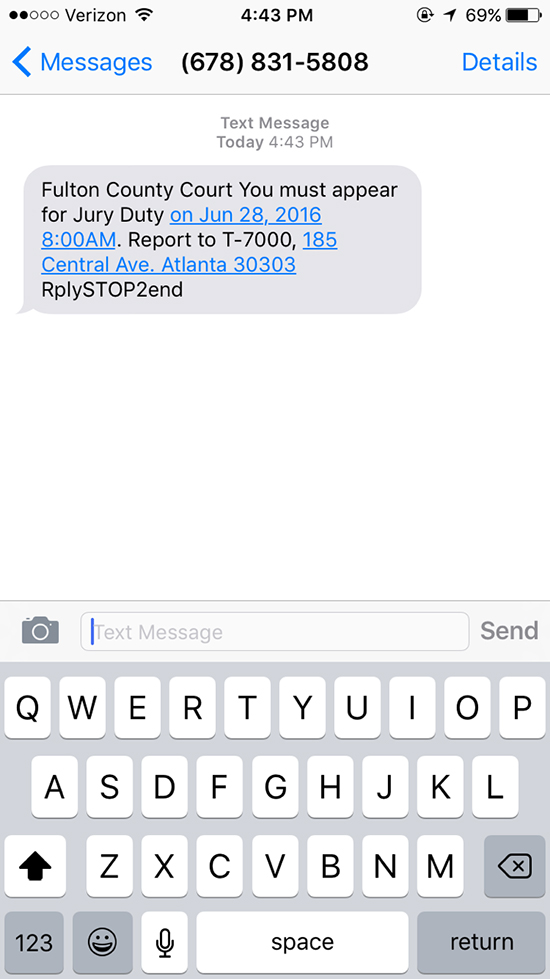 As expected, I was late, but only by 2 minutes. I pulled up to the Orange Lot and a shuttle was there loading a large group of people. I slowly parked and fiddled around in the car to make sure that the shuttle would take off before I got up there. By the time the next shuttle arrived we were standing there like a herd of sheep going to slaughter house. Though the pick-ups are a little slow, the shuttle buses are luxury compared to the YMCA shuttle bus growing up. Apparently the Fulton County transportation budget is on point. Prince was playing softly in the background of the cool air conditioned, cushion seated shuttle bus with extra large windows. The height of the bus is 11'10″…just in case you need to know. (…the dumb details I pay attention to. #smh)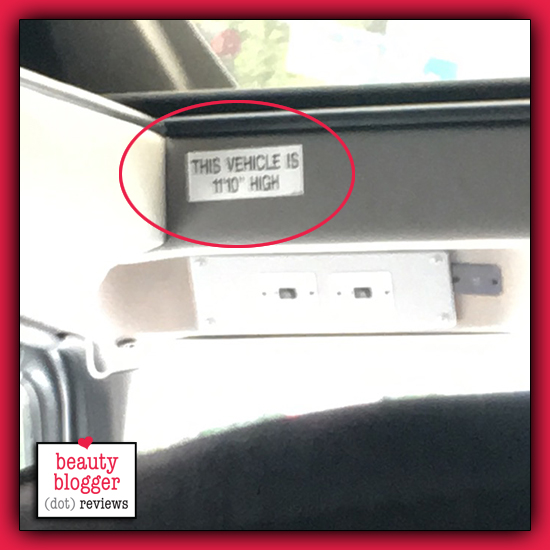 Most everyone was friendly and eager to have someone to chat with. My attitude was somewhere in the middle. I had my headphones in but I smiled at most everyone. There was only one unfriendly lady out of the oodles of people I encountered. Usually I would be on the extreme of unfriendly in this type of situation, but ever since the Jodi Arias trial and my obsession with Juan Martinez, I was a bit excited for this process. I could watch court cases all day long…not the bullshit ones on at 3:00 PM about dog bites and traffic violations but actual criminal cases.
After enjoying a ten minute ride over to the courthouse we were dropped off on the corner and walked up the stairs to the courthouse. There was people everywhere, but jurors go to the right to go through security. It looked like a huge long line, but apparently that's the meeting spot for the defendants and lawyers.
I'm so used to going through airport security, whom are never friendly and I'm always sent to the "go over there" lane to be searched for gun powder and padded down. I once got sent through the TSA X-Ray Body Scanner to only be frisked cause I had a quarter in my pocket and forgot to tell them about. Much to my surprise all of the employees at the Fulton County Superior Court were friendly, helpful and very nice. One of the employees will hand you a plastic bin to put all your stuff in, place it on the scanner belt and walk through a metal detector.
After security, we headed left to the elevator up to the 7th floor, where again we all stood in line to check in, which moved surprisingly fast. This is where they will ask for the another section off of the jury summons. I had my driver's license out, but it wasn't necessary.
Next it's time to choose a seat in the sea of red chairs divided into three areas with vending machines in the middle. They also have mini business centers with supplied computers but there was someone on those constantly. If you desire a computer spot, I suggest being one of the first ones there, bright and early. Wi-fi is available but my iPhone wouldn't connect to the signal, so that was a no-go for me. There a few electrical outlets but not many compared to an airport.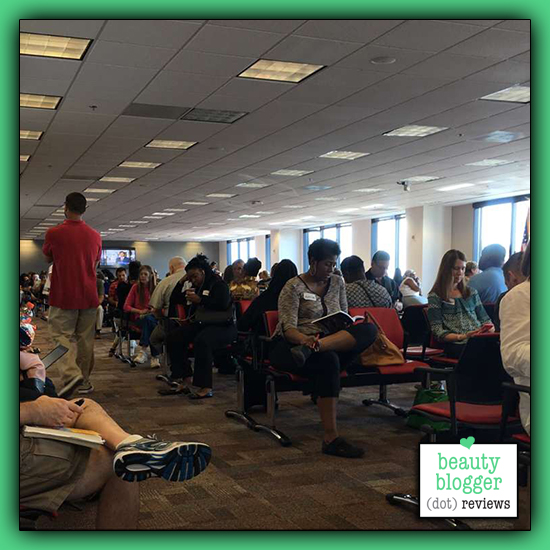 8:40 AM : Found a seat, watched stranger after stranger walk past me. After a short introduction and instructions, I got up and went to go find a bathroom as we were told we had a twenty minute break. I was standing in line for the bathroom when a girl walked up and tapped me on the back and asked if I was waiting on the bathroom. I replied, "Yes." She said, "Girl…go down this hallway! There's a nice bathroom with absolutely no line." Thank you to her. As I can promise you, I would have never walked up to a stranger to tell them about a "secret" bathroom, but then again I'm not the nicest person either. Sure enough, there was a bathroom with absolutely no one in there.
9:37 AM : The TV screens came on and it was a video projection of the small platform located at the front of the room with a mic decorated with a flag on each side. A deputy then stepped up and announced the names of the people in the first court group. (These group numbers are assigned at that time and have nothing to do with the group number of the original jury summons.)
The process is…he calls your name, you say "Here!" and he assigns you a number and court room to report to. Each group is assigned to one courtroom and each group had a different number of people in it. The first group had forty eight people, the second group was in the twenties, the third group was less and the rest of the groups were somewhere in the middle. The third group was notified that the defendant came to a plea bargin and that their service was considered completed. Everyone in the room was hoping to be on this list. I was not.
10:40 AM : The forth group of jurors was called. Again I was not called.
11:15 AM : The deputy comes in and announces everyone called for the next group is excused for lunch and will need to be back by 12:30 PM. (*fingers crossed my name isn't called.) By this time, I was bored out of my mind…I just wanted out of there. Being around that many strangers and germs is not my idea of fun. I did more snapchats in those two hours than I've done collectively in a week ever on snapchat. Again I was not called for this group.
11:30 AM : The deputy comes in for the last time and announces that the last two cases also came to a plea deal and that our service was considered completed. Everyone started cheering. He did a final roll call for everyone to announce "Here!" before we were allowed to leave…this way they could mark people that skipped out after initially checking in.
11:45 AM : Shuttle ride back over to the Turner Field Orange Lot.
12:00 PM : Drinking a milkshake at OK Cafe!
There's always that douche bag that will tell everyone in the elevator his story about that one time he served on a jury. Of course, me being me, blurted out, "Did they sequester you?" He responded, "No." and shut his mouth as the elevator door opened to let us out. There was the super, flamboyant guy who was showing Dr. Miami's snapchat to the older lady sitting next to him. She had no interest and the look on her face was full of disgust. (*Don't follow Dr. Miami on snapchat unless you really want to be see some live plastic surgery snapchats…which disgusts me.) There was also the long haired, weirdo guy who walked around the room, pacing back and forth the whole day.
In conclusion, I feel very lucky and thankful for getting out of there by noon. The excitement of actually being selected to be on a jury quickly lost it's luster as soon as I stepped foot in the courthouse and it became a reality. The worst part of the day was sitting in traffic at 7:30 AM or just the fact of sitting around all morning being surrounded by complete strangers. Great place for people watching though.
Thank you to the employees of Fulton County as my experience was a good one. Hopefully I won't be seeing the court house again anytime soon but for anyone wondering or nervous about a jury summons, I hope this helps give you a better idea of the morning process. Obviously if I had been picked in a group and taken to a courtroom, there would be a lot more to this story. But luckily for me, it ends right here and my civic duty is completed for the next twenty four months.