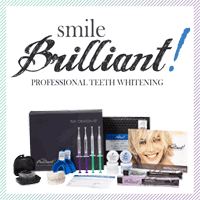 { product review }
Whiten your teeth with SmileBrilliant at-home professional teeth whitening system! Get lab direct, custom-fitted trays and hi-intensity whitening gel without ever visiting the dentist!
www.smilebrilliant.com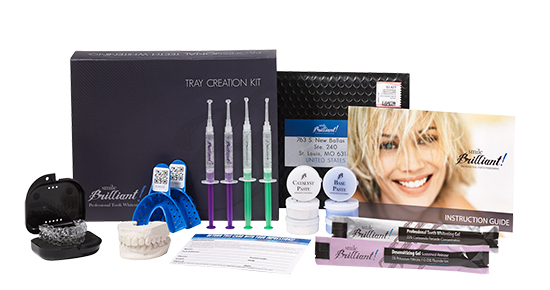 If there was a list of turtle slow bloggers, SmileBrilliant! would most likely be more than delighted to add my name to that list. This post is long overdue and I would first like to thank SmileBrilliant! for being so patient with me, as putting this review together was truly a lot of fun, even though to them it probably seemed as though I wasn't enthusiastic, which was NOT the case at all. I'd also like to thank Nate for helping me out with the review, as unfortunately I was personally not able to use the whitening system due to my enamel fluorosis.
Enamel fluorosis is caused by overexposure to fluoride during the first eight years of life (the years when permanent teeth are forming). I've always had spotty, yellowish teeth and many moons ago I tried Crest White Strips only to find out that they whitened my teeth, but only in random spots, with bright spots, some small and some big, which did not go away. I ended up having to go to a dentist and having the spots buffed out. Since then I have been terrified to try whitening systems.
When SmileBrilliant! contacted me at the beginning of the year, I explained my concerns and previous experience and since there are other people out there with enamel fluorosis, they thought it would be a good test to see if their product brought out white spots on my teeth. Unfortunately it did, so I immediately discontinued using it, but obviously individual results will vary depending on the severity of the fluorosis. The white spots did fade away, but I had only left the product on my teeth for ten minutes. Thankfully an additional, second kit was sent for review and this is where I introduce Nate. Nate has fairly white teeth to start with, so I was a bit skeptical if there was going to be a huge before and after.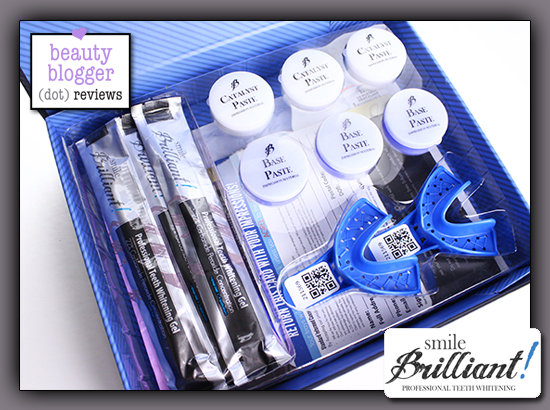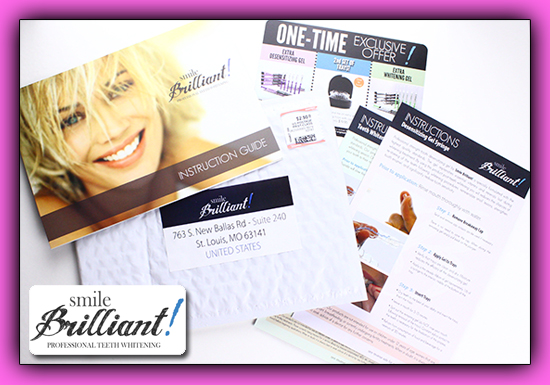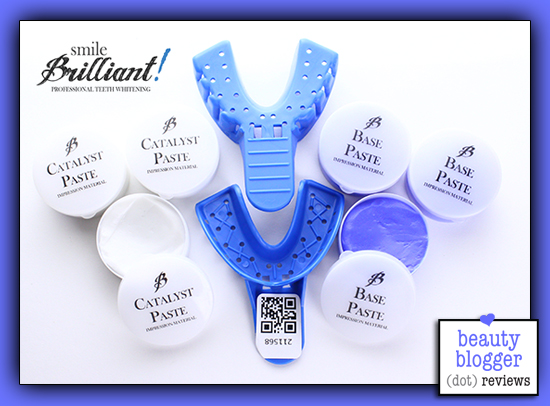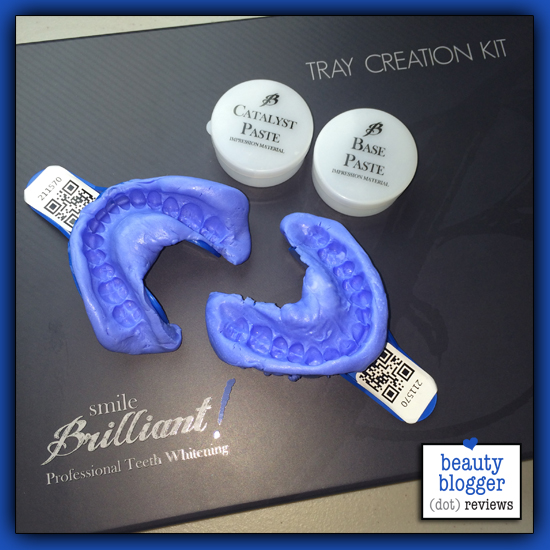 The process of making the impression trays was so much fun and my favorite thing about the SmileBrilliant! system is that it is an all inclusive kit. All of the directions are clear and precise with lots of pictures to help walk you step by step through the entire process. Three sets of "base paste" and "catalyst" are included in the kit, just in case you mess up on an impression, there's one extra. You can watch the video below to see Nate and I create our impressions and his final thoughts after using the SmileBrilliant! system.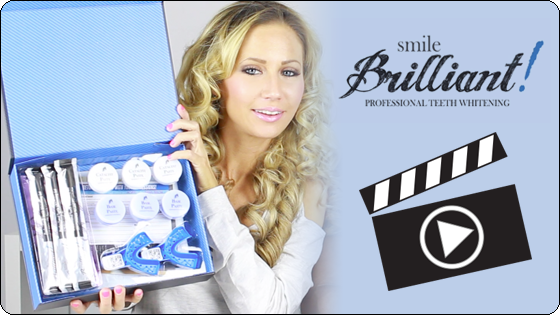 A pre-paid envelope is included in the kit along with a card to fill out with your name and mailing address for your impressions to be mailed back to SmileBrilliant!. On the back of the card is some exclusive offers for extra molds and extra gels. Make sure to rinse off your impressions, let them dry and drop everything in the mailbox! Nate and I mailed our impression trays off on June 30, 2015 and got the molds back on July 11th, 2015, but keep in mind that the 4th of July holiday was smack in the middle of that timeframe, so usually it wouldn't take that long. The molds also come with a cute, convenient storage case, easy for travel.
The molds fit my teeth perfectly. Since I ended up not using the molds for the Whitening Gel they have now been converted to tooth night guards since I grind my teeth extremely hard at night. The material is soft and flexible and does not irritate my gums at all.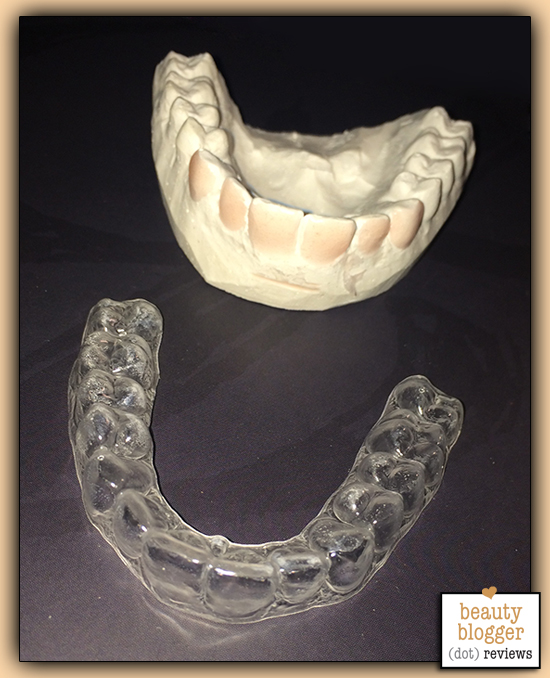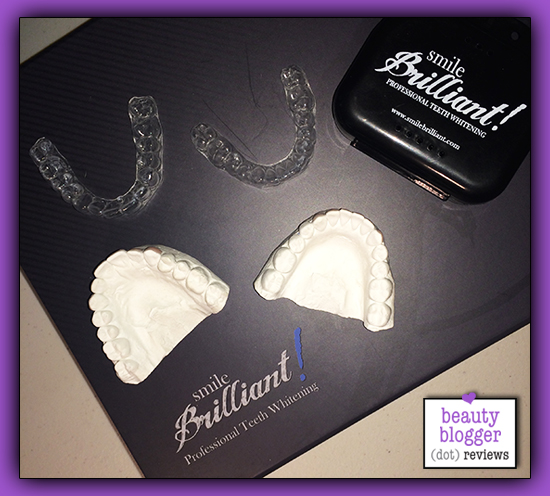 The number of gel applications required before all stains have been removed varies per person. It's based on the severity of the stains on the tooth. Are the stains only on the surface or have they been collecting for many years resulting in intrinsic (below the surface) staining? Each syringe contains three to four applications of both top and bottom molds, meaning each application is ⅙ to ⅛ of the total syringe for both Whitening and Desensitizing gels.
The longer your teeth been collecting stains, the deeper the stains are, which means you will require more applications. Severity of stains is usually reflected by age. The higher the percentage of peroxide the quicker the stains will come off. Lower percentages will still remove all stains but will require more applications. SmileBrilliant! also provides a Desensitizing Gel to help prevent teeth sensitivity. The Desensitizing Gel is to be used for thirty minutes AFTER you use the Tooth Whitening Gel as it temporarily seals the micro-fractures and pores in your tooth's enamel. This eliminates the opportunity for the Tooth Whitening Gel to penetrate the more sensitive dentin beneath your enamel.
It's recommended that you wear the bleaching trays anywhere from forty-five minutes to three hours. After three hours the whitening agent in the gel will have minimal effect. How long you wear your trays really depends on you. You can choose to wear them all night; however, after 3 hours the whitening gel will have a minimal effect on the color of your teeth.
SmileBrilliant! manufactures a 22% Hi-Intensity Teeth Whitening Gel that is a pure blend of carbamide peroxide with absolutely no fillers or mixed blends. It is designed to achieve the safest, fastest, most dramatic professional results in the least amount of days with the least amount of maintenance.

The approximate number of applications needed is as follows: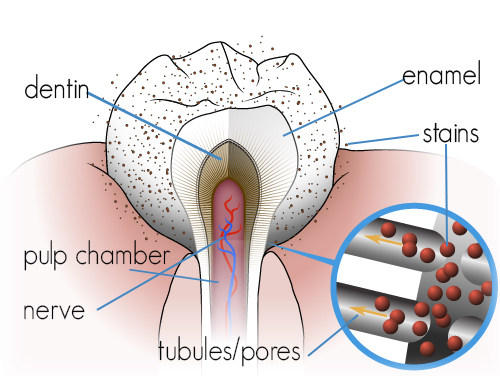 The natural color of a tooth resides in the dentin which lies below the enamel. Enamel is a clear hard protective coating. Dentin is a soft bone like tissue. The natural color of ones dentin varies per person: most have off-white, greyish or yellowish coloring to their dentin. Very few have naturally bright white dentin. Whatever the natural color of your dentin is, is how your teeth will appear when all stains have been lifted from your teeth. NO dentist or teeth whitening brand can guarantee a bright white smile including SmileBrilliant!. The best they can do is guarantee is a stain free smile.
Many dentists are moving away from using lasers for teeth whitening since they find the heat source is much too difficult to control and typically the hefty price tag can be anywhere from $500 to over $1000. The SmileBrilliant! Teeth Whitening Gel removes most stains with a gentle action that whitens your teeth. As the active ingredient in the gel (carbamide peroxide) is broken down, and oxygen acts upon the stained organic deposits and oxidizes them into a white color. This process makes the overall tooth color closer to its natural unstained color. Your tooth structure remains unchanged. Years of clinical tests have demonstrated the safety and effectiveness of this system. Over 95% of people treated achieve some level of tooth whitening.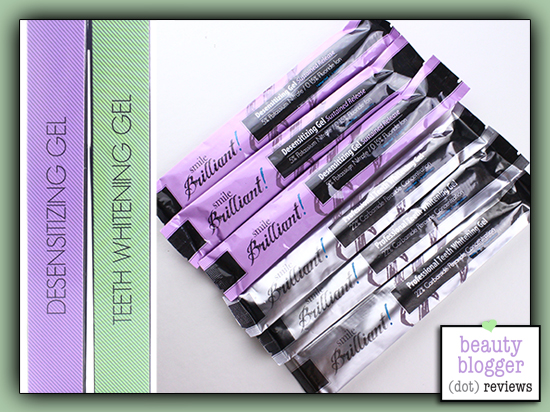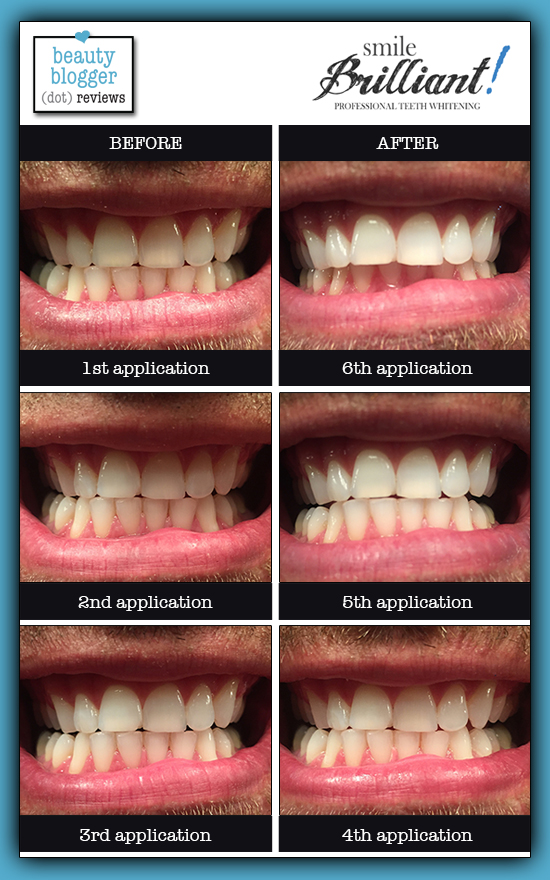 The whitening gel has a one year shelf life, but if refrigerated it can be extended by one more year, for a total of two years. SmileBrilliant! offers a no questions asked 100% results satisfaction guarantee*. If you're not completely satisfied with your whitening results using our system, simply return the custom bleaching trays within 30 days and we'll give you a full product refund. (*Please see website for full details.) Check out Danielle Mansutti SmileBrilliant! fantastic results in her YouTube video. You can also read and check out many other videos on the SmileBrilliant! testimonials page.
By now you are wondering how much of a dent is this going to put in your wallet? Not nearly as much as you think! For your very own SmileBrilliant! custom teeth molds, 6 whitening gels & 6 desensitizing gels it is only $169.90 + shipping and if you don't want the desensitizing gels it's only $139.95 + shipping.
For more information about SmileBrilliant! click here! I would love to see your before and after shots, as Nate absolutely loved the system and ended up taking my gels for himself. Follow SmileBrilliant! on social media and make sure to enter code: "msalelizabeth" for 5% off any SmileBrilliant! order.
PLEASE NOTE:
• Children under 12 should never use any teeth whitening products, but children under 18 should still consult with their dentist before starting any whitening regimen.
• Teeth whitening products will not whiten veneers. If you want to whiten your teeth, you should complete the process before having any major dental work so that the dentist can match the color of your newly whitened teeth.