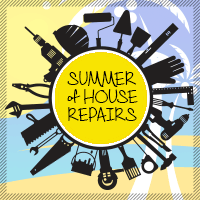 Hello, hello! It's been a while since I've had time to sit down and write a blog post! As some of you might have noticed, but most of you probably didn't, my monthly post count significantly dropped last month. I've had the lovely pleasure of living in an Extended Stay all summer due to a water leak inside a wall of my condo. Won't bore you with all the mind numbing details, but needless to say it's been one pain in the ass of a journey! Never thought picking out the type and color of a floor would be so difficult with endless options.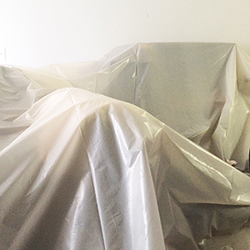 Everything I own under a plastic tarp.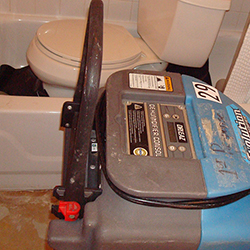 The toilet in the shower.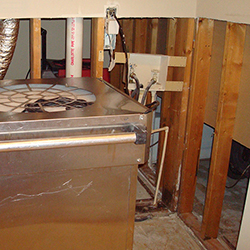 See through to my closet, bathroom and laundry room.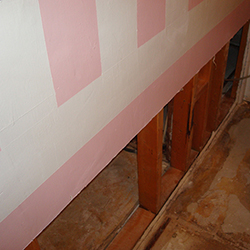 Bye bye pink walls…it was fun while it lasted.
Because of the construction, I've had to clean out every inch of my condo and I've come to the solid conclusion that I'm an organized hoarder. My place could be the commercial for the Container Store clear shoe boxes. I went back to the Container Store a few weeks ago with the intent to purchase Elfa shelving, but the service was deplorable, so I put my beeper down and walked out. Drove right over to Home Depot and purchased the 4′ – 6′ ClosetMaid Kit and had it home probably before my beeper would have ever gone off at Container Store. (I'm all about good customer service!)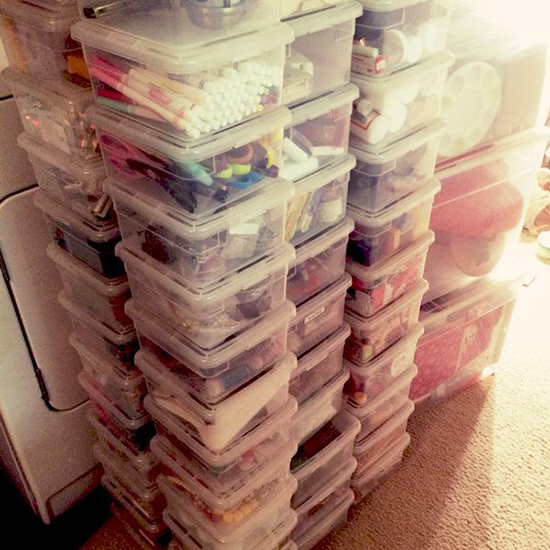 Though I'm handy, I had no idea how to use an electric screwdriver, but I learned all by myself and of course YouTube. Also learned how to install toggle bots and that I need a new electric drill cause I'm stronger than the shitty one I have. I was so proud of myself that I instagrammed my dead even level bubble…still shocked that my shelves are straight and even more shocked they are still standing with all my containers stacked on them.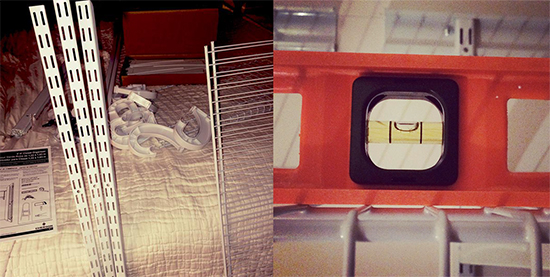 Between cleaning house, going to floor stores, dealing with the insurance as well as the homeowners association I haven't had much time to do anything and most everything I own is packed up. I always thought hotels were a blast to stay in, until I was forced to live in one.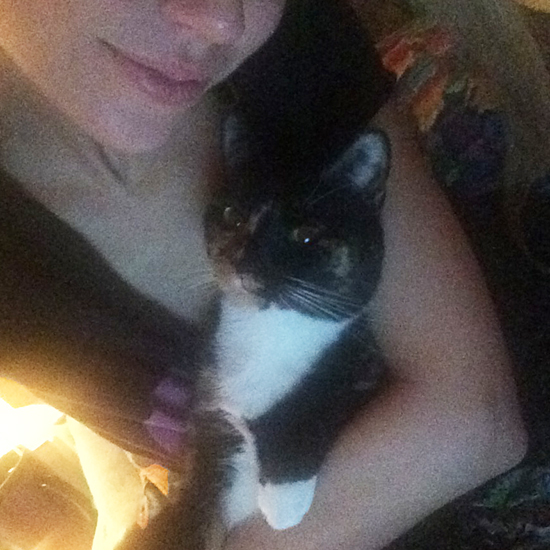 As of yesterday, September 12, 2015, my YouTube channel was released from FullScreen. Not that I make a shit ton of money on YouTube, but I was approached and signed with them in February 2013. I actually thought it was four years, but I just looked while doing this post here's what happened.
Originally I was signed with the PopSugar Network and then I suppose got booted and notified in September 2013 that my contract had been switched over to the Beautique Network, which I had to sign a new contract for two more years. Their contracts automatically renew if you don't give them notification that you want to cancel in advance. Last November I wrote them trying to cancel my contract as the Beautique Network wasn't even active on their own channel, more or less doing any promotion for my channel, but FullScreen wouldn't budge until September 12, 2015. Won't complain anymore since I signed the contract, but atlas freedom. The end.

In my opinion, I think my YouTube videos are a complete snooze fest and that fact was confirmed when a co-worker told me she watches my videos in bed, to help her fall asleep. Hopefully I'm going to start doing collaborations with a good friend of mine. I'll still do my beauty box subscription openings as well.
Over the past few months, I've had a lot of time to think about the direction I want to take this blog. I need to do more bad product reviews. I've always tried to write about things I enjoy but almost every time I personally go to purchase something I look at the one star reviews first. My need is to know why people don't like a product that I'm considering purchasing.
Since Google's latest algorithm release focused on mobile device compatibility, I've thought about redesigning this site once again to make it more mobile friendly. Of course I'll let everyone know ahead of time, as this will affect the monthly giveaway. Now after being on WordPress for almost a year, I can confirm that I do like WordPress, still not in love with it, but I like it better than I did this time last year. Still have a few bugs from the hack in January that won't allow me to edit and preview posts in Safari, which is my preferred browser, but I just use Chrome instead.
In the next two weeks, I hope to have everything with the condo completed, including new laminate floors and vinyl planks in the bathroom, kitchen and laundry area. I've decided to turn my condo into a complete working studio for my blog and crafts. My place isn't big enough to entertain people and I rarely do anyways, so I thought why not?! Maybe I'll do more of both if my living space is set up to do so, without having to more stuff around each time to do either.
Thank you to my loyal readers along with you ladies that only come to enter giveaways. I heart you all.