{ Authentic Beauty Summer Soirée }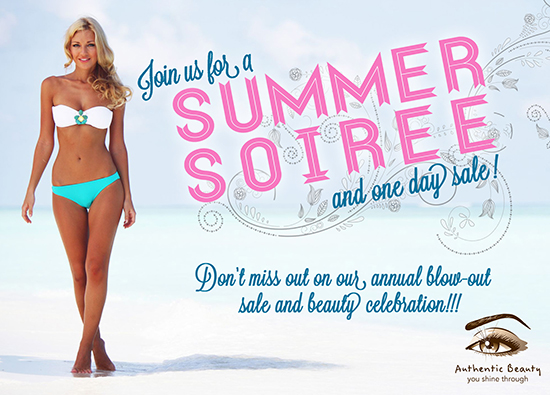 Authentic Beauty
Enjoy free makeup touchups & incredible deals at the Authentic Beauty Summer Soirée!
Authentic Beauty is here to get you gorgeous and looking your absolute best for summer. Join Authentic Beauty on Tuesday, July 21st from 11am-7pm and be their guest for cocktails, light bites, makeup applications, services and sizzling summer deals at our Summer Soirée and One Day Sale.
The Summer Soirée party is an all day open house complete with makeup applications and lessons including The Bronze Goddess; incredible service specials on organic spray tans, makeup lessons, facials and back treatments, waxing, hair services and more.
Get your hands on specials of the Authentic Beauty makeup line, The Magic 3 in 1 Foundation, custom blended lipsticks in this summer's hottest hues as well as smoking deals on skincare and Clarisonic's best facial tools for smooth summer skin.
The Summer Soirée event is like Christmas in June where you can get or give the gift of beauty, pampering and attention this summer. Bring your friends or meet new ones and mark your calendars now for this gorgeous one day sale and open house. Join Authentic Beauty on July 21st, 2015 from 11:00 AM – 7:00 PM for our Summer Soirée One Day Sale.
For more information about this event, our products and services or to make an appointment, visit our website. or give us a call at 404.849.0443. Authentic Beauty is located at 4674 Roswell Road Atlanta, Georgia 30342!