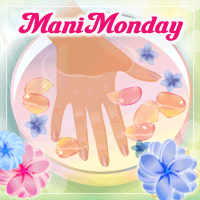 Becoming a Julep Maven gives you exclusive access to COLOR. Each month we hand-pick trendsetting new nail colors, cult faves and cutting-edge beauty products that are just right for you. Commitment shy? No problem. YOU decide how often to receive your Julep Maven box, and you can cancel at any time.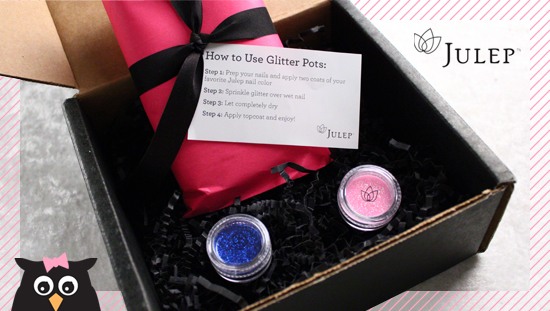 Julep Box Opened
This post is way overdue, but as most of you know, I'm not much of a nail girl, but I decided to try out the popular nail subscription service, Julep. I was a bit intimated when I first received the box as I've never been able to do my own nails without it looking like a five year old painted them. I also own a total of fifteen (15) nails polishes all together, as I was able to pick up a few new ones recently at the MABB swap.
I have been debating if I should start a nail section on my blog and I finally decided I would, so for 2013 here it is: #maniMonday. I hope over time each post will become better and more creative and hopefully you viewers will enjoy it or at least laugh at my horrible attempts. I also went and purchased a package of acrylic nail discs recently, so I can do a better job of displaying nail colors and nail art instead of using my super short nails in the future.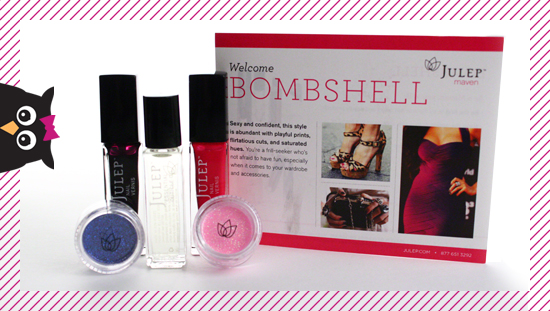 Julep Bombshell Intro Box
I can honestly say I love Julep nail polish. I'm not a super knowledgable person about nail polish, but I love the consistency along with their beautiful shades. I noticed the polish dries fairly quickly and is easy to clean up around the edges. My favorite thing about their polishes is the glitter polishes are easy to get off. I usually steer clear of glitter, just for the fact that I hate the process and time it takes to fully get off my nails.
I found Julep polishes are more on the opaque side, but two coats is ample for a solid, no see through finish. I did find the bottles are easier to tip over as they are taller and narrower than average nail polish bottles, but on the other hand they are much easier to hold when doing a nail photo. All the bottles have a black painted window on one side of the bottle, which I'm curious of the exact reasoning for this, other than a color comparison, but I'm going to ask the company representative next time I speak to her.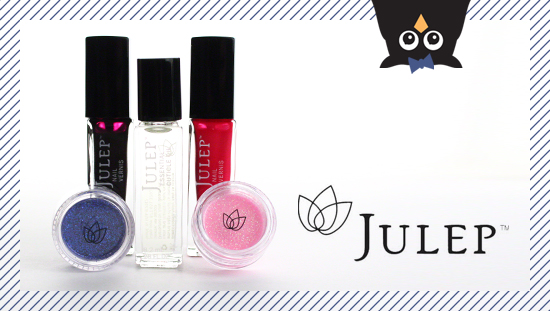 Contents of the Julep Box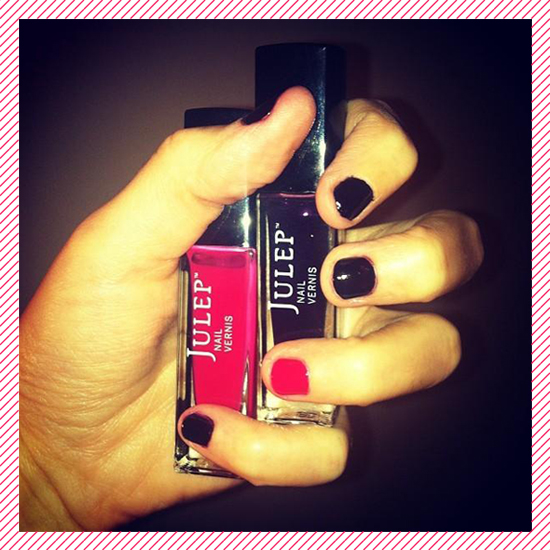 After doing my survey, it's concluded that I'm a "Bombshell Girl". When I received my first box this is what was included:
• Two (2) Nail Polishes:
– Viola: Deepest dark purple crème.
– Eva: Raspberry crème.
• One (1) Julep Essential Cuticle Oil
• Two (2) Glitter Pots: Blue & Light Pink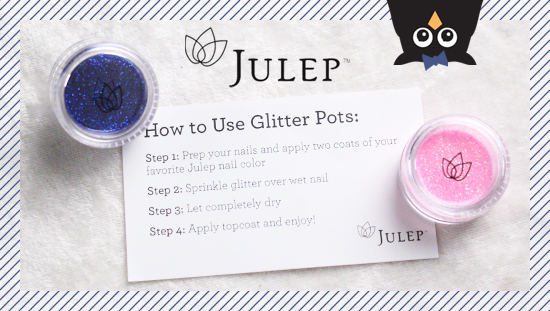 Glitter Pots in Blue & Light Pink, along with instructions.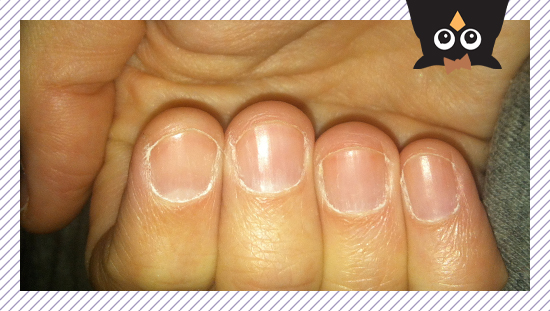 Julep Essential Cuticle Oil-
All-natural blend of essential oils and Vitamin E hydrates and strengthens nails and cuticles. Extends the life of your manicure while leaving a glossy sheen.
My unpolished fingernails before I applied the Cuticle Oil.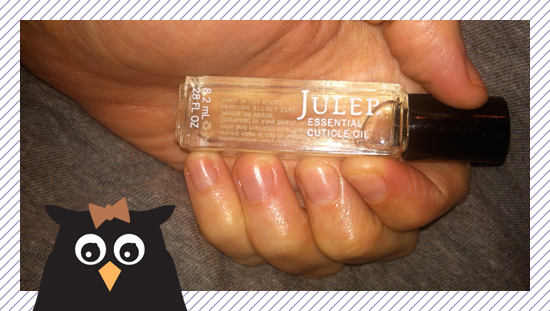 A world of difference after I applied the Cuticle Oil. The rollerball also gives a tad massage, but I found it easiest to rub on my finger than apply to each nail.
It's very simple to get started as a Julep Maven. First you fill out a fun quiz about your likes and style to determine which Maven category you fit in. But the awesome thing is you can switch any to a different style each month. So if you like the colors in another style better than your style based on the quiz, you are freely open to do so at any time. The other awesome thing about Julep is you can cancel anytime, skip the month, or send your box to a friend, all for free. So if you decide it's not for you, then you aren't locked in. After picking your first box, it will be shipped out within three (3) days so you can shortly start playing with your new colors.
There are five (5) Maven profiles that you can choose from:
AMERICAN BEAUTY
This look is the grown up version of the All-American girl-next-door. You can turn heads in a cocktail dress and heels, but also love relaxing in your favorite tee and jeans. Elegantly simple but unafraid of a little indulgence, your wardrobe glows with eye-catching hues
BOHO GLAM
An eternal romantic with an appreciation of beauty on a deeper level, you see your wardrobe as a creative drawing board. Your effortlessly elegant look pairs earthy neutral tones with fun, chic hues of turquoise, purple or orange.
BOMBSHELL
Sexy and confident, this style is abundant with playful prints, flirtatious cuts, and saturated hues. You're a frill-seeker who's not afraid to have fun, especially when it comes to your wardrobe and accessories.
CLASSIC WITH A TWIST
This timeless, iconic look is marked by beautiful yet simple cuts and colors. You accent your neutral palette with carefully chosen textures, patterns and splashes of color. Whatever the trends, you're uninfluenced by short-lived fads and always remain confidently in style.
IT GIRL
Edgy and bold, your statement-making look exemplifies the modern rock 'n' roll chic. You love bright, bold, fun and innovative style and are inspired by colors and accessories that are anything but ordinary.
What makes Julep Nail Color so great?
Julep Nail Color is "4-free" and does not contain formaldehyde, formaldehyde resin, toluene, or DBP. Our professional chip-resistant formulation is fast drying and highly pigmented. Julep nail color is a fun way to make the season's latest shades accessible to everyone. And because we've tested our trend-setting toxin-free colors and products in over 100,000 manicures and pedicures in our parlors, we have a good idea of what works and what our clients love.
Powered By Girlfriends
We donate a portion of the proceeds to organizations that support women through our Powered by Girlfriends program.
Click here to get started today!
This post is part of: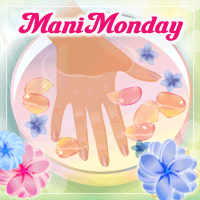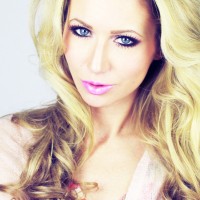 Article Categories:
nails