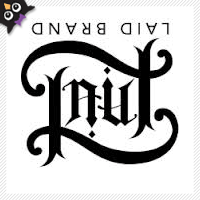 LAID Brand – Mo' Rockin Oil
PHEROTTRACTION™ technology is a custom pheromone blend with different formulas for women and men. Both utilize six unique pheromones that act synergistically to achieve their desired effects. AND, since hair has a greater surface area than skin, adding PHEROTTRACTION™ to hair care products allows the pheromones to work better, and last longer.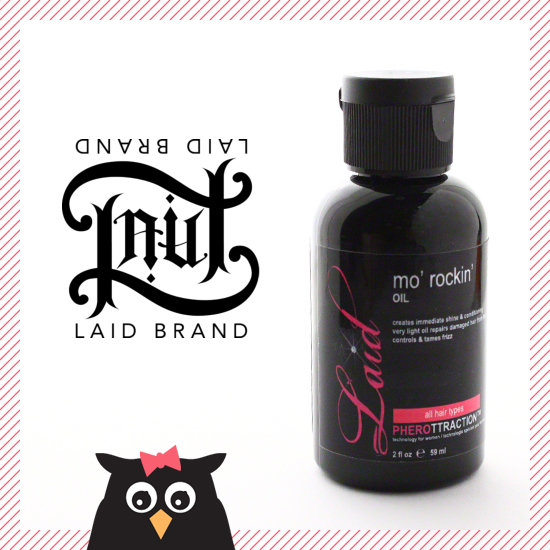 LAID Brand – Mo' Rockin Oil
For today's Hair Spray Thursday I'm featuring one of my favorite haircare brands, LAID Brand, who also carries my favorite hairspray ever, "No More Headaches" Hairspray, which I will be featuring next week for Hair Spray Thursday. This week I'm featuring another one of my LAID Brand favorites, the Mo' Rockin Oil. I don't use much product on my hair, as most products weigh down my hair, but I love the Mo' Rockin Oil. I've found several ways to use this product.
The first way I use the Mo' Rockin Oil is, applying it to my wet hair and then blow dry my hair. I've noticed my hair dries a lot quicker and is a lot smoother than it normally would be without product. Then style as normal and finish with hairspray. The second way I use it is to blow dry my hair without product, curl and then finish with the Mo' Rockin Oil. Using it like this does give your hair instant shine and gives you more control over frizzes. Though the oil is feather light, be advised it can make your hair greasy if you apply too much, which is tempting considering how yummy it smells. But a dime size amount of this product goes a very long way.
It get's even better…not only are LAID Brand products sulfate and paraben free, but all of their products smell AMAZING and are loaded up with pheromones aka PHEROTTRACTION™. Yes, you just read that correctly…pheromones!! I can tell you first hand, people love the smell! Seriously almost every time I go out, someone will make a comment of how good I smell. (FYI. I almost never wear perfume.) I've even had people ask and I immediately point to my hair and they come over and smell it to confirm, yes indeed it's definitely the hair! That's happened with both men and women!
Usually doing reviews, I've tested the products for a few weeks and I'm writing my conclusion. I have been using this haircare line since last year September and I can honestly say I have used at least one of their many products almost everyday since then and the whole haircare line on special nights. As all of the pheromones combined create a whole new pheromone combination. I have become good friends with the owner, David L. Hensley Jr., who does amazing hair in Tampa, Florida. So if you are in the area, go make an appointment…I'll be totally jealous of you! I've already told him the next time I'm in Tampa, I'm definitely tracking him down! You can check out my original LAID Brand post here. I've heard a body wash is in the works and if it smells anything like the haircare line, I'm going to have to stock pile it.
Make sure to go say hey on Twitter or Facebook. Also be on the lookout soon for a surprise LAID Brand giveaway! Which product would you want to win the most? Check out the LAID Brand website and leave me a comment below or tweet me (@alElizabeth).
This post is part of: