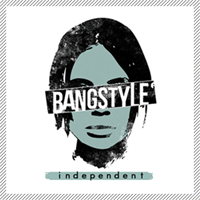 Bangstyle's range of independently produced artisan hair care products were developed by artists for stylists and trendsetters worldwide; giving individuals the inspiration to create their own unique look with a variety of specially formulated, no-nonsense products.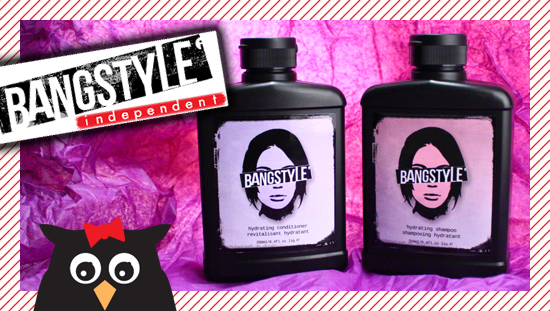 "The selective line of 14 professional, high performance products delivers on their promise to give consumers exceptional hair care; leaving it better than they found it. All products boast a color safe formula free of parabens, sulfates and sodium chloride; and contain sunscreen to protect hair, and product, from UV damage. Bangstyle products are sold exclusively in salons."
I was recently introduced to Bangstyle and their new line of indie hair care products. First and foremost, if you don't have an account / profile on Bangstyle, you need to go create one now, especially if you have any interest in hair and hair styling. The site originated as a hair photo sharing site, which it still is, but it also offers a wealth of information on a variety of other topics, including fashion, art, beauty, food, technology and a few others. Each one of these topics has a huge selection of articles to read, so the site is an excellent resource of information and inspiration.  Actually since I've discovered Bangstyle, it's one of the first sites I browse to find out the latest stories, as I have found lots of articles on there that peak my interest.
Bangstyle has some amazing graphic designers! I absolutely love the style of the graphics on both the website and packaging. The logo and graphics are an urban / grunge style, but at the same time the website is very organized and easy to navigate. Bangstyle is not only a great place for information and sharing unique hair photos, but it is also a community of other individuals with similar interests. You can make comments on other people's photos as well as click "inspire", so you reference them easily in the future or share the photo on twitter, facebook or pinterest.
To be even more awesome, Bangstyle has created a mobile app to help the growth of the photo sharing possibilities. Now if you are a stylist with a client or an individual on a shoot, you can snap a photo and share it with the Bangstyle community. To read more about Bangstyle, visit this page, as even their wording on the website is clever and their explanation of each application is much better than mine and very wittily written.
After learning all about Bangstyle and that their hair care product line was new, I was so excited to try it out.  Especially since I also decided to start a "Hair Spray Thursday" hair day this year and do more reviews and tutorials on things to do with hair. When I received the products, the first thing I did was smell them. They all have very sweet and candy like fragrance, but after a while I concluded the scent totally reminds me of kool-aid powder. The conditioner reminds me of kool-aid powder with a splash of coconut. The products are unisex and I think that is very well reflected in the graphics. Bangstyle products are free of parabeans, sulfates, sodium chloride and they have sunscreen in them to help protect your hair from the elements of the sun.  And best of all, their products are safe on color treated hair!
Both the Hydrating Shampoo and Conditioner have a light green tint. The shampoo has a nice, thick consistency and lathers up well with a bit of water. It washes out very easily too, which is nice if you have thick hair like myself. The conditioner also has a thick consistency and washes out easily without leaving any residue on your hair. I put Bangstyle to the test using the Anastasia HyperColor one night. I did this to test how good it was at cleaning my hair, by washing the color out. It did not let down, all the HyperColor washed out on the first shampoo. I was very impressed. The last thing I will say about the shampoo and conditioner is I love the packaging. The bottles are very easy to hold when your hands are wet in the shower and the snap top to pour the product out is very convenient when you get closer to the bottom verses a pump top.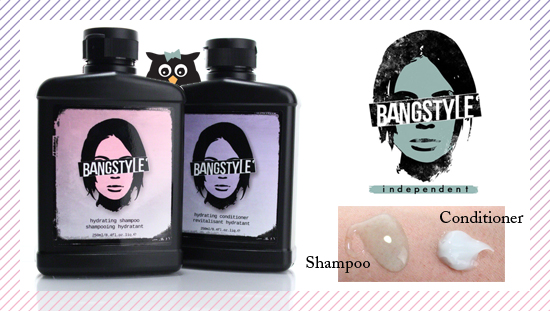 Hydrating Shampoo
Ideal for normal to dry hair types, this moisturizing shampoo boasts a luxurious lather that provides hair with a gentle slip and softness. Contains Keratin Amino Acids to leave hair protected, soft and manageable all day.
Hydrating Conditioner This hydrating conditioner drenches hair with moisture, delivering instant softness and smoothness. Moisturizing properties from Avocado Oil and Shea Butter leave hair shiny and manageable.

Volumizing Mousse This rich foam creates luxurious volume while leaving hair soft to the touch. Perfect when used as a "prep" for blow drying, this mousse maintains body and structure with a memory hold. Smoothing Lotion When applied to wet or towel-dried hair, this smoothing cream leaves hair silky, controlled and frizz-free. Infused with Olive Oil and Keratin Amino Acids, this smoothing lotion provides body and shine with a touch of holding power.
The Smoothing Lotion comes in a bottle that reminds me of a skinny Elmer's Glue bottle. It has the exact same top that you twist, then squeeze the bottle for the product to come out. As you can see above, it is a thick, opaque lotion, which like the shampoo and conditioner smells yummy. I applied this before I dried my hair and the first thing I noticed is it took a bit longer to dry, as you can tell it seals around your hair to help smooth it down. It was much fuller after blow drying it, but not as smooth as usual. I noticed though after flat ironing it, my hair was much smoother than usual. The scent was still sweet after styling my hair, but not as vivid.
The Volumizing Mousse I need to try out a bit more, as I only wear mousse when I want my crazy, wavy hair, which is not very often. But I will post a picture this week of my hair with the Bangstyle mousse. It definitely brings out the curls and once again makes your hair smell sweet.
Bangstyle offers a variety of products, including other kinds of shampoos and conditioners, hair spray and other styling products. The next one I'd love to try is the Sea Salt Spray. My next door neighbor swears by her sea salt spray, but I've actually never tried one. Supposedly sea salt hair sprays are great for wavy, beach looks!
For any questions, feel free to contact me! Go make your profile on Bangstyle right now or check out mine here!  If you want to keep up with the latest happenings follow them on Facebook or Twitter.