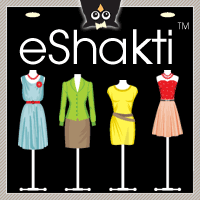 Shop stylish and trendy day to evening dresses, tops, blouses and skirts in
sizes 0-36W & Custom Sizing. Free Customization and hassle-free returns. Custom clothes ship in 5 business days!
This year I wanted to start doing a bit more fashion posts, starting today with eShakti.com for "Fashion Friday". I was contacted by eShakti.com last November and they offered a custom dress in exchange for a review. Like always, I did a bit of research before I contacted the rep back as I was a little surprised by their reviews. But I decided why not, it's a free dress! I placed my order through their website on November 26th. It was hard to choose, but I finally decided on the:
Black Ruffled Tiers Dress
STYLE # CL0024402
$59.95
Color: Black
Our crepe dress is styled with ribbon ties that fashions into a draped bow at the side of the high neck while gentle gathers beneath the natural waistline lend fullness to the tiered skirt.
• Slips on over head; partial side hidden zip closure.
• Back keyhole with rouleau-button closures at high neck.
• Ruched bodice.
• Elastic smocked back waist.
• Below knee length.
• Self-lined.
• Polyester, woven crepe, no stretch, mid-weight.
• Machine wash.
Below is the e-mail confirmation that I received shortly after placing my order.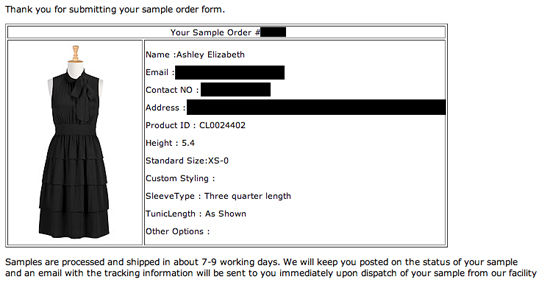 On December 10th, 2012, I received my dress. I was shocked! Within two weeks they had custom made a dress for me and I had already received it. This is faster than the majority of the companies that I work with, whom are just usually sending pre-made products. With the holidays, I wasn't able to schedule time in the studio to get proper pictures, but I didn't want to wait any longer to get this post up as they were so prompt in getting this lovely, custom dress to me.
The ordering process was very simple. eShakti.com carries everything from dresses to tops, with a few things in between. They offer a variety of colors, patterns, styles and best of all, they offer custom sizing along with custom options like length of the dress or skirt and sleeve type. Once you decide on your purchase, they have a "Standard Chart" of sizing, based on your bust, waist and hip measurements and a drop down menu for your height. Or you can do a "Custom Sizing" to fit your unique measurements. The last step is the custom options. The first custom option is the sleeve length. They give you eight options to choose from: "As Shown", "Bracelet length", "Capsleeve", "Elbow length", "Inset cap", "Short length", "Sleeveless" or "Three quarter length".
The second custom option is the length of the skirt or dress. The options to choose from here are: "As Shown", "Short Dress", "Above knee length", "Knee length", "Below knee length", or "Mid-calf length". You can see from the order form above, I custom ordered a "Three quarter length" sleeve with the "As Shown" for the length. Below is a snapshot from the ordering form.


The dress fits better than I thought it would, but it is longer than I expected. Once I get into the studio I'll be able to show you more detailed pictures of how the dress fits. I also plan on showing you how it would look if I had ordered it in other styles or lengths in hopes to demonstrate the variety of looks from one dress.
The quality of the dress is nice for the price. The polyester fabric is soft but it was a bit stiffer than I thought it would be. I imagine once it's washed a few times it will soften up. I inspected it for loose seams or ragged edges without finding any and I concluded the sewing threads are all neatly placed and secured. I have yet to wash it but I do not think the seams will start unravel. It is a bit wrinkled from being package wrapped in such a small box and I will definitely hit it with the iron before it gets shot in the studio. Below you can see the pictures I took of the packaging and the dress hanging on a hanger. I basically just wanted to introduce and show the packaging in this post.
I think the concept of custom size ordering clothing is wonderful. It's especially great for petite or plus size women or bridesmaid dresses. This way all your ladies can have the same dress, but custom fit to their specific size. You can visit eShakti.com here or follow them on Facebook or Twitter.
PLEASE NOTE: I did lighten the photo exposure so you could see the dress detail verses it just being a black silhouette, but the dress is a rich black.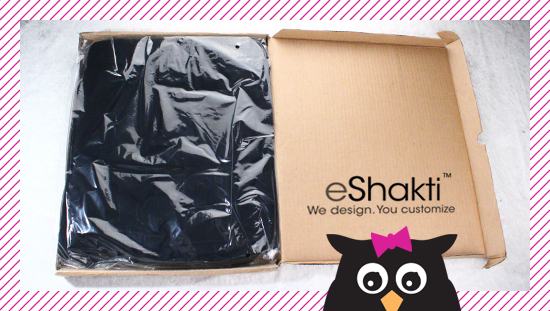 The package and dress in a plastic wrap.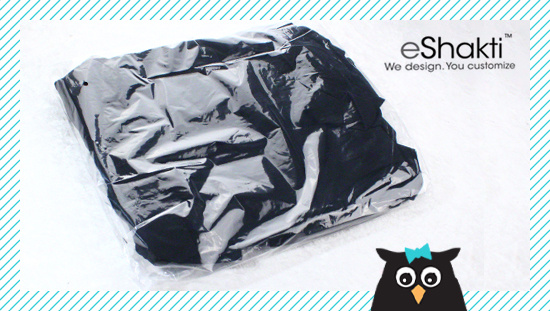 The dress.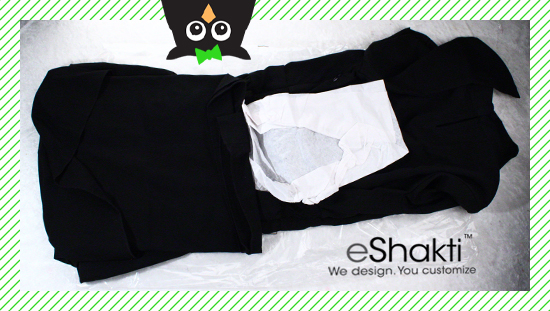 Unfolding the dress. Paper liner inside.
Dress unfolded.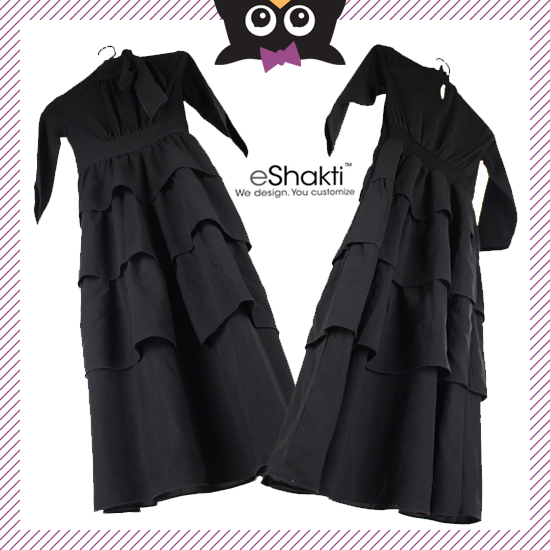 Dress on hanger.
PLEASE NOTE: I did lighten the photo exposure so you could see the dress detail verses it just being a black silhouette, but the dress is a rich black.
This post is part of: