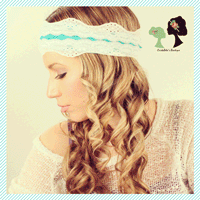 CristaBela's Boutique is an Etsy store filled with hand-made accessories for Women and Girls, including headbands in a variety of styles, colors and textures along with scarfs.
I'm very excited about today's post as I came across this business through Etsy, which is one of my favorite sites ever. Especially since I have my own store on there, but it has nothing to do with beauty. I love doing arts and crafts, so I started making Cricut cuts that people could buy. I'll do another post on that in the future, as in 2013 I will be expanding my blog into a variety of topics other than beauty. And if you are an indie crafter I'll love for you to get in touch, so I can start introducing more hand crafters on this blog. I want to give as much support and love to indie crafters.
Today I want to introduce Jurgita and her Etsy store, CristaBela's Boutique. She makes the cutest headbands in variety of fabrics, colors, styles and textures. She also makes baby headbands which are absolutely the cutest things ever. If I had a baby girl, she'd be dressed up everyday looking adorable, with a matching headband. Jurgita also hand makes scarfs. Here is the link to her store and pictures of her products can be found on the giveaway post.
As mentioned in the video CristaBela is sponsoring my January blog giveaway, so you can check out this post to enter to win your own headband, including a baby headband for all my Mommy viewers.
Photo © Ashley Elizabeth