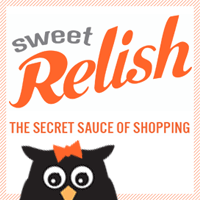 I was introduced to the "Sweet Relish" website yesterday, by SITS Girls and I think it's an incredible concept. It's especially useful for us ladies who love to shop.
To start using the "Relish" feature, just go to their website and sign up for an account. After that you will install a toolbar widget that shows up on every browser window you open from that point forward. You will then create personalized lists so that when you are on any web page and see something you would like to purchase in the future, you just "Relish" it, but hitting the "R" button widget. This basically means that you are link saving a wish list for easy future reference.
The possibilities are endless for lists. For example you could create any type of wish list, makeup, clothing, kitchen gadgets, etc., a birthday present wish list, a gift giving list, your son or daughter's Christmas list…about anything you can think of. I just like the fact that you can be on any website and "Relish" an item. Somehow their system knows which images to pick up and the price. I only had one item so far that didn't pick up the price from the web page. Below you can see the beginning of my makeup list wish.
So head on over and check out www.SweetRelish.com. I definitely think you will love it! You can see my "Makeup Wish List" here.