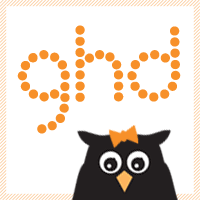 Be part of ghd's pink campaign this year with the ghd Pink Cherry Blossom limited edition. This Gold Professional 1″ styler has shimmering pink plates and comes with a matching heat-resistant satin storage bag with floral embroidery detail. This styler has the same features and gives the same salon-style results as the ghd Gold Professional 1″ styler and is perfect for styling all hair types.
I've owned two hair straighteners in my entire life. The first flat iron I bought a CHI flat iron followed by the one I currently use, which is a Bellezza flat iron. My basic conclusion is that most flat irons are great at first, but after a year or so of use, they lose their "ironing strength", some faster than others. I was recently given the opportunity by Best British Bloggers to try out the GHD Cherry Blossom Styler. I was so excited, as I want to start trying out more hair products and tools, as I have found my hair videos and posts get a lot a views and I get many requests for hair tutorials.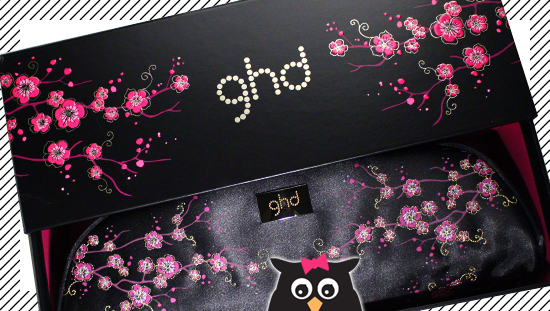 When I first received the package and opened up the shipping box, I was more than impressed with the packaging. Oh my goodness, the box this flat iron comes in, is expensive!! I know this from doing printing in the past and between the structure and thickness of the box combined with the metallic embossing, raised die cuts (in the shape of flowers) and a soft texture finish, this box was not cheap to produce. That's only the beginning… the zippered bag, the flat iron comes in, is so adorable with a paddled divider inside and like the box it is made with quality materials, not to mention that it's heat resistant.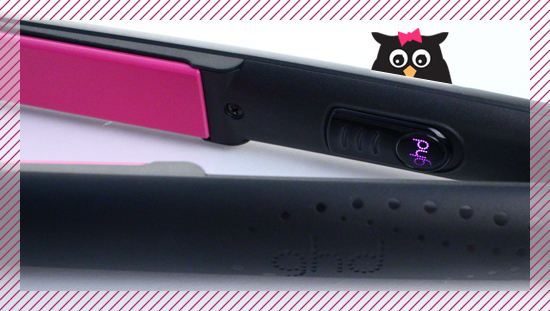 Now on to the actual flat iron. The first thing I noticed is how light it is. I guess I never noticed how heavy my current flat iron is, until I used this one. It has rounded pink plates, an on/off switch that beeps when turned on and ready, a swivel cord and an auto turn off.
I have recently started carrying around a notebook to take initial notes when using new products. These are the quick notes I wrote the first time I used the GHD Cherry Blossom Styler.
LIKES:
• Very light
• Very smooth
• Can put right up to hair line with burning head
• I like the beep
• Can do curls easily
• Slow stroker
• Love auto off
• Two Year warranty
DISLIKES:
• No tempature gauge
Besides being light as a feather, this iron is very smooth running down hair.  I could also put the iron right up to my hair line without feeling a burn about to happen.  I've never been good at creating curls with flat irons, but the rounded plates and swivel cord features make it a lot easier than flat plates.  This is because when you go to create the curls and have a hard, square edge, when you go to pull the curl through that hard edge is creased into your hair, giving you a kink instead of a curl.  I also noted this flat iron is a "slow stroker".  What I mean is I found my hair straightened better with fewer and slow strokes verses multiple faster strokes.
I've read reviews that some people don't like the beep when the iron is turned on or ready, but honestly I like it. I also love the logo lights that light up and change colors when the appliance is turned on.  One of my favorite features is the auto off after thirty minutes.  I can't tell you have many times I've come back to my house after I've left to double check that I unplugged a curling or flat iron. So with this flat iron you won't have to worry about burning down your house, if you forget to unplug it. This iron also amazed me at the heat up time, within thirty seconds it was ready to go.
As stated above, my only dislike is not having a temperature gauge. I like having the ability to base the heat on the coarseness of a model's hair. For myself, I always crank appliances up to the maximum. Without a temperature gauge I can't do either. I did not feel like it was the hottest flat iron I ever used, but I still recommend using some type of heat glove to protect your fingers.
All in all, for the price tag of $225.00, I do think it's a bit pricey, but you do have to put into consideration the price of the packaging. If I saw the bag for sale standalone, I would opt to purchase it, just based on the fact that it's so durable and I absolutely think it's adorable. This was the first GHD product I have tried and I can't wait to try more of their products in the future. You can see in the video above a demonstration of me using the GHD Cherry Blossom Styler and what a fabulous job it did straightening my hair.
What are your favorite GHD products?  Have you tried any of their styling products or brushes?
GHD CHERRY BLOSSOM STYLER PRODUCT FEATURES
• Advanced ceramic heater technology
• Sleep mode
• Universal voltage
• Rounded barrel
• 2.7m swivel cord
• Shimmering Pink plates and accents