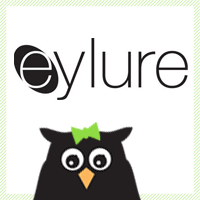 A gorgeous and easy to apply new lash collection from Katy Perry and Eylure. This style is "Pretty", a full and fabulous style for a classic evening look. A great style for defining the eye and the self-adhesive strip makes this so quick to apply. All Katy Perry lashes by Eylure are handmade, 100% natural and each style is reusable.
The idea of adhesive lash strips sounds fabulous but the actual execution was not to my liking. This package came with a pair of lashes with an adhesive strip already attached to each lash, along with an extra adhesive strip for each lash.
I applied the lashes after doing my eyeliner and the first thing I noticed is the adhesive strip is very shinny! I don't like that at all, as I always tightline and then go back over the lash strip with liner to ensure it's not shinny and to match up corners. These lashes were so shinny, I don't think there's any amount of eyeliner that could cover these shinny strips.
The next thing I didn't like about these lashes is the fact that they don't stick right on the lash line. They did stick around longer than I thought they would, but there was always a small gap, which no one would probably notice, but I knew they weren't attached properly. I especially noticed a drastically shift when I sneezed, and my eyes shut tight.
The actual strips are fairly thick and then with the added adhesive strip these lashes feel heavier than normal lashes. Usually lashes don't bother my eyes, as I'm obsessed with false lashes and wear them almost daily, but by the end of this day, I was more than ready to take them off.
I could see these maybe being good for beginners, but then on the other hand if I had tried these out as a beginner, I think I might have gotten turned off by false lashes.

Day 1: Attached with lash adhesive strip. As you can see detaching from the lash line.
The second day I decided to try them without the adhesive strip and use regular DUO glue. They were much, much better without the adhesive strip. The style of these reminded of Ardell style 110, which is my version of the perfect natural lash. Usually I go for a fuller style like Ardell Wispies or long ones like Ardell Hotties. These strips were the longest strips I've ever come across. Usually I don't have to trim any off, but I definitely did for these.

Day 2: Attached with lash glue. As you can see detaching from the lash line.
There are several different styles to choose from and all Katy Perry lashes by Eylure are handmade, 100% natural, latex free and each style is reusable. But at $6.99 per pair I would not suggest buying these. I can purchase two sets of my favorite lash strips for the price of one set of these.