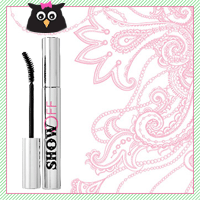 Intense, dramatic lashes with one easy stroke! This unique formula offers volume, length and curl with Argan Oil to condition and protect. The curved brush hugs the natural eye shape to coat every lash while fanning and feathering. No clumps, no flakes, no smudges!
BeautyAddicts had a twitter conversation one day about mascara and they kindly offered to send me their Show-Off Mascara to try.  As I said in my Maybelline Mega Plush Mascara review, I'm not much of a mascara fanatic and I honestly can't tell a huge difference between most mascaras.  I also have odd ways of rating mascara that other people usually find strange or weird.  For instance, I prefer mascaras to clump a tad bit, since my lashes are so scarce.  I also prefer wetter mascaras for mixing false lashes with real lashes.  I usually attach the lash strips, let them dry and then add two coats with mascara.  For this review, I applied the first coat of mascara to my lashes and then applied the lash strips and a second coat of mascara.  The demonstration photos are below.
First and foremost, the Show-Off Mascara matched all my expectations for mascara.  It's very thick and wet, which is my favorite.  Since I wear lash strips on most days, blending the false strips with my real lashes is one of the most important factors in rating if I would purchase or recommend a mascara.  This mascara was awesome at blending the falsies with real lashes.  There are some mascaras that don't have the "sticking" power so the real lashes don't stick to the falsies, creating a gap between the two. (Not a good look!)  Even though this formula is wet, it did not get all over my eyes after the application, nor did it smudge throughout the day.  I did find that the wand brush being so large made it a little tricky when applying it to my lower lash line, so just apply with extra attention to detail.  I love the texture thickness of this mascara's formula, as it's very easy to build upper lash liner darkness and volume.
The packaging is fun and inviting. Most mascara tubes are black and boring, but this one has fun typography and comes in a decorated paisley box. The wand is one of the thickest wands I have ever come across, very similar to the Maybelline Falsies flared mascara wand. The main thing I noticed that I didn't like, was very time I would stick the wand back into the tube, a bunch of extra mascara would get stuck on the top of the tube, which oozed out a little bit, when I screwed the top into the tube.  I would imagine over weeks of repeated use this would become a complete mess.  So I would recommend wiping the top off at the end of each use, to prevent this build-up.  But if you are a make-up artist, using disposable applicators, this wouldn't be much of a problem.  It does take a few minutes to dry completely, because of the thick formula.
Comes off very easily with make-up remover and I do not think it is waterproof, as it failed the hand under the water test, as I rubbed a bunch of product on my hand, placed it under running water, only to find that this mascara was already half off within 15 seconds.  But this mascara combined with the Anastasia Beverly Hills Lash Genius is a perfect combination. I am able to detect some kind of faint smell, but I can't pin point exactly what it is.  The Show-Off Mascara is priced at $20.00 + shipping/handling for a 11 grams / 0.39 ounce tube.  Available in one color, "Jet Black".
All in all, I am very impressed with this mascara.  I have most definitely put it in my rotation for make-up.  It's not my favorite for bare lashes, but it's one of my favorites for blending false lash strips with real lashes.  And since I rarely go bare, I'll be using it fairly often. Have you tried Show-Off Mascara? I'd love to hear your thoughts!
BeautyAddicts : ShowOff Mascara
Ingredients:Water/Aqua/Eau, Glyceryl Stearate, Propylene Glycol, C18-36 Aid Triglyceride, PVP, Cetyl Palmitate, Candelilla Cera/Euphorbia Cerifera (Candelilla) Wax/Cire de Candelilla, Nylon-12, Stearic Acid, VP/Eicosene Copolymer, Steareth-20, Cera Carnauba/Copernicia Cerifera (Carnauba) Wax/Cire de Carnauba, Aminomethyl Propanediol, Caprylyl Glycol, Phenoxyethanol, Steareth-2, Xanthan Gum, Chlorphenesin, Argania Spinosa Kernel Oil, May Contain +/- Iron Oxides (CI 77499)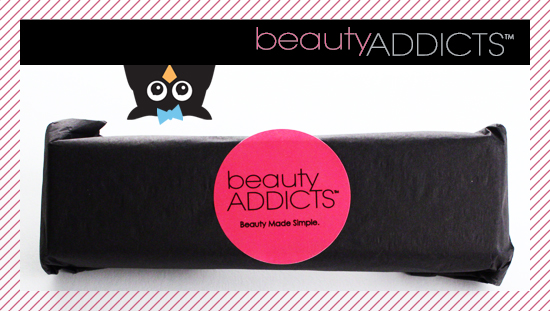 The pretty packaging that the BeautyAddicts came in, along with a pink sticker that I ran through my Xyron, to renew the stickiness and attach it on my make-up notebook.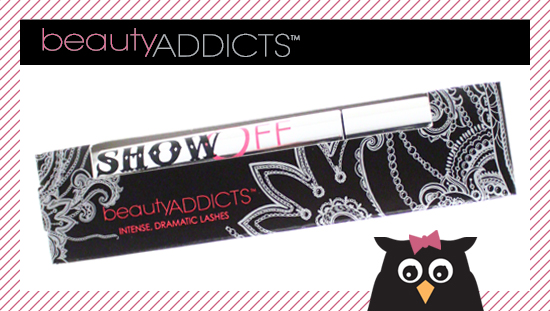 Love the packaging!! Even the typography on the mascara tube has thought put into it.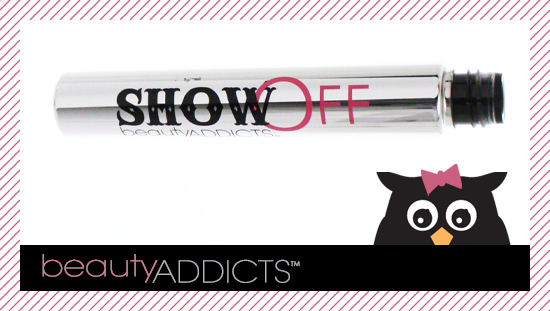 The mascara tube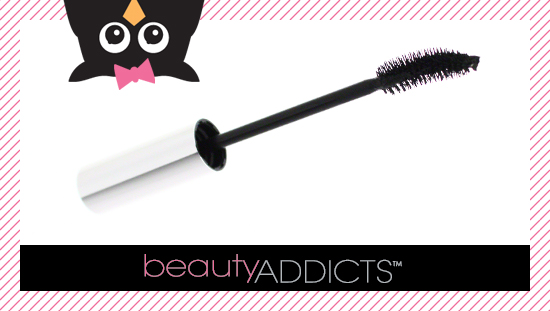 The mascara wand, which is very thick and large compared to normal wands, along with a curve.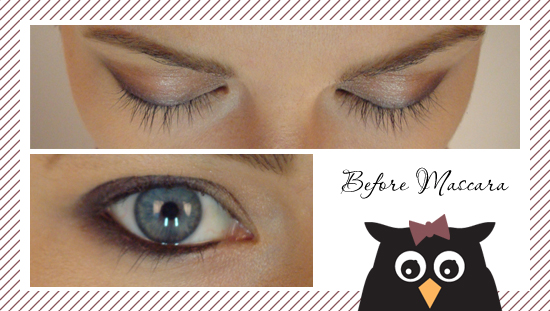 My barely there lashes with no mascara.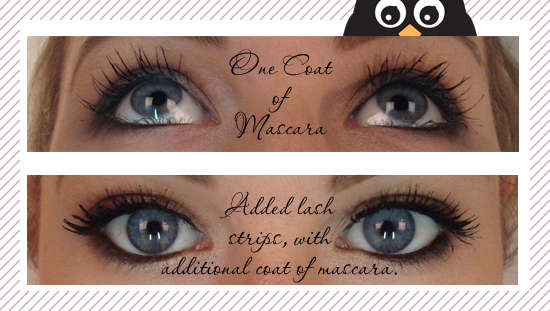 First coat, along with lash strips applied and a second coat of mascara.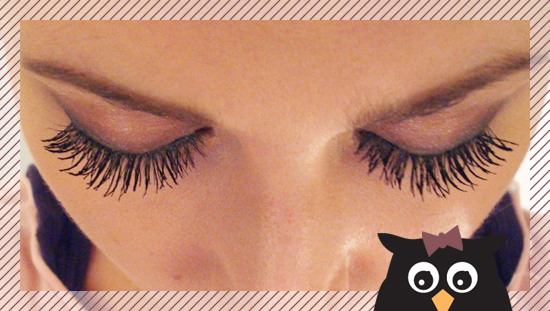 Top View