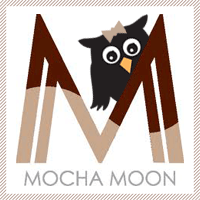 The Mocha Moon line was created by Lori Louis, CEO and Creator of Mocha Moon Beauty Organizers & Accessories. The signature product, The Perez Beauty Case, is an ultramodern and innovative cosmetic organizer. It was inspired by Lori's love of makeup and her frustration from digging through her vanity drawer and taking the tops off multiple lipstick tubes in order to find the shade of lipstick to match her outfit.
I am so glad the Mocha Moon Perez Beauty Case was introduced to me to by Jackie O. of www.jackieo.co. This case is a high class, elegant cosmetics bag that was created by an Atlanta based entrepreneur named Lori Louis. Not only did she create a fabulous product, but a portion of sales goes back to local women and children's shelters. So when you purchase this case, not only do you get to feel more organized, but you can feel good about giving back. I could try and explain Mocha Moon's mission, but I don't believe I could do better than the quote below from Jackie O.
"Besides being a fab and chic beauty accessory, Mocha Moon passion goes beyond helping women create organization out of cosmetic chaos. Founder, Lori Louis, wants her bags to be known as the "Bags with a Mission," a kind of purse with a purpose. Giving back to the community is a vital part of her business and Mocha Moon works to combat homelessness by donating a portion of every sale to shelters housing women and their children. In addition to the monetary and product donations, she's created a Beauty And Books program www.beautyandbooks.org which visits to shelters to deliver job readiness training as well as provide residents with toiletry, beauty items and books for the children. Her plan is to create corporate partnerships to help fill the bags with cosmetics and toiletries which would then be delivered to women's shelters, to provide the women with a few necessities."
How wonderful is Lori's ultimate goal? I absolutely love supporting companies that give back especially local Atlanta companies, as Atlanta is currently where I call home. Now on to The Mocha Moon Perez Beauty Case. You can see from the video above and my pictures that the case is very upscale. It is available in seven (7) colors, "Midnight Blue", "The Rose of Sharon" (pink), "The Color Purple", "Tranquil" (turquoise), "Wine" (red), "Sunset" (orange), and "Mocha Chocolate" (brown). Some colors sell out faster than others, but if the color you want is unavailable, just send an inquiry through their website and they'll be happy to let you know if and when more will be in stock.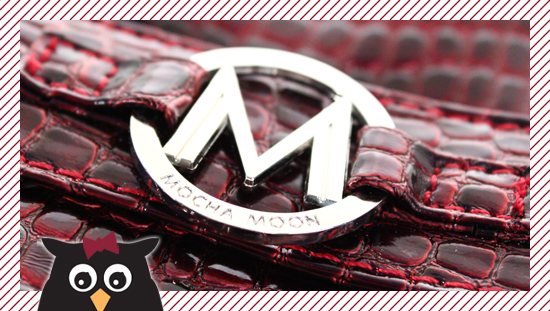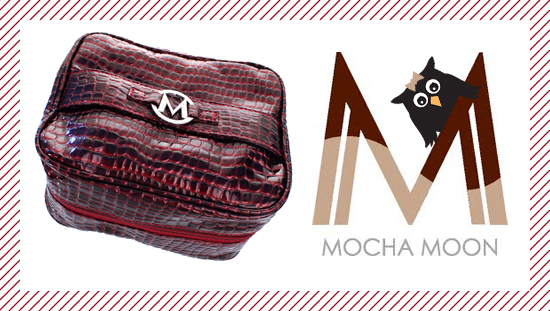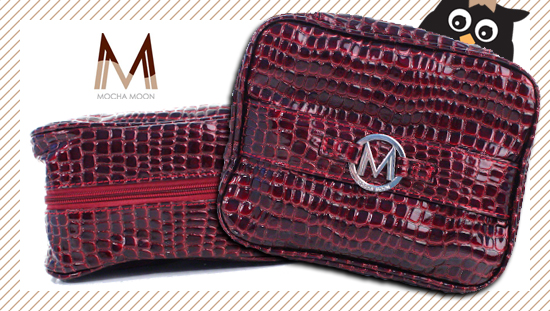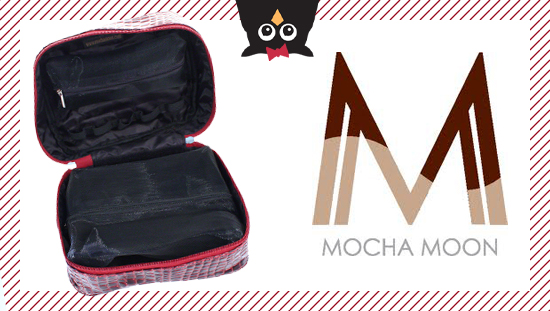 The Mocha Moon Perez Beauty Case a very lightweight bag that has a glossy, soft texture made with faux croc leather and features a double zipper which opens in the middle. The compact size is 4″ x 7 ½" x 4″. Inside the bag has two (2) detachable (velcro), see-thru zippered mesh pouches and a middle detachable (velcro) flap that has loops on both sides to hold loose items.
As I explained in the video my favorite pouch is the smaller one, as it is perfect for eye liners, lip liners and brow pencils. The pencils actually stay in place with the lids still on, instead of having the lids fall off and liner marks on the inside of my purse. The detachable flap features seven (7) loops in various sizes on each side to hold circular items in. I found these loops were great for lip glosses and brushes. A few of my brushes did stick over the edge of the flap, but they zipped up in the case with no problem. The inside top section, near the bottom of the bag features another five (5) loops to hold more items in place.
The construction of the case is spot on. All of the sewing and seams are perfectly finished and the soft zipper, zips easily. I really dislike products or clothing with the hard zippers that can nick your finger if you hit them the wrong way or zippers that are difficult to zip by continually getting stuck on every other zipper tooth. I also love the double zipper feature, as you can place a luggage lock on it, if you need to keep the contents secure, like at a photo shoot or an event that you know no one is going to pick it up and walk off with it, but not one hundred percent confident that someone wouldn't go through it. The case thread color and zipper liner are color coordinated and complement each bag depending on the particular color.  The durability factor of The Perez Beauty Case appears to be very high and is covered with a one (1) year warranty, even though I believe it will last for many years to come.
Not only is this case great for anyone with tons of make-up products, but it's also great for organizing nail products or convenient for anyone who travels frequently, to organize your grooming and travel toiletries. Also if you are a last minute gift giver and need a perfect present for that special lady, definitely keep The Mocha Moon Perez Beauty Case in mind. You can pick up one of these beauties from their website for only $39.99 + shipping/handling.
I can honestly say my make-up went from a plastic container store shoebox where everything was thrown in and disorganized to now neatly sitting in a pretty bag, organized on my counter.  I also love the fact that I can just pick it up and take it with me for days that I know I will be out all day.  I've also found that if I need just a few items for a particular day, I can use one of the detachable bags to stick in my purse, without using the whole case.  This way the products don't get lost in the bottom of my purse and then when I get home I just velcro the bag back in the case.
You can see on the Mocha Moon website that Lori has also created the Lori L. Tote Bag, which is a large tote bag. It is made with the same faux croc leather and available in the same colors as The Perez Beauty Case. The Lori L. Tote Bag includes several compartments to keep you organized and is a perfect companion to The Perez Beauty Case. The Lori L. Tote Bag is available for purchase off of the Mocha Moon website, for $64.99 + shipping/handling.
Make sure to keep your eye out for Mocha Moon as they were recently featured on CBS 46 and they are featured in the January 2013 Essence Magazine's print issue (page 28) with Alicia Keys on the cover. Check out a what other bloggers are saying about the Mocha Moon Perez Beauty Case. Here are the reviews of Bella of www.afrobella.com and Nikka of www.ohnikka.com.
I'm also very excited to announce Mocha Moon is sponsoring my February 2013 beauty blog giveaway.  So stay tuned for details on how to win a Mocha Moon Perez Beauty Case for yourself.  I thought it would be perfect since it will be Valentine's Day and I know you will ♥ this case as much as I do.  Let me know what color you would like to win most!
Make sure to follow Mocha Moon on twitter and facebook. Also stop by and say hello to Jackie O. on twitter or facebook as she has worked with many artists that you have probably heard of, especially if you love old school hip-hop ♫ music, like me.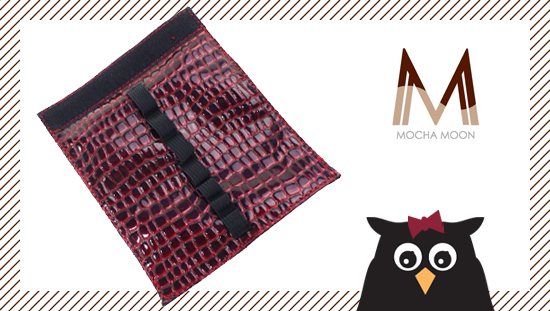 Middle detachable (velcro) flap with seven (7) loops on each side, with a total of fourteen (14) separate compartments in various sizes.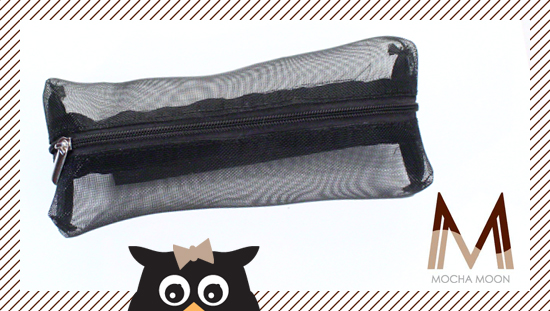 One of the detachable pouches. My favorite one, as I useful it for all my liners.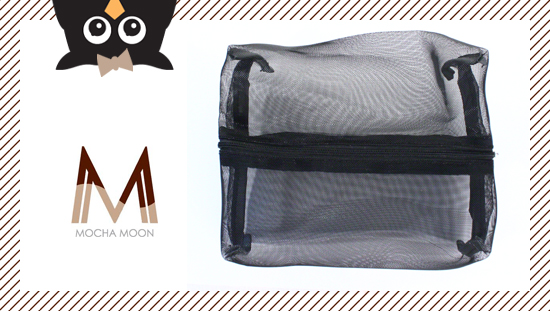 The large detachable pouch.
Here is Mocha Moon Perez Beauty Case Demo video linked from YouTube.