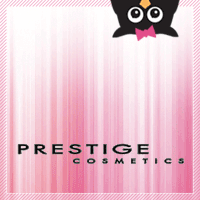 Introduced in the U.S. market over 25 years ago, the line is currently sold in Chain Drug across the world. The product line is recognized as being a trend-setter in product development, color assortment and its modern fashionable image. The complete line focuses on the high-turn lip and eye offering a wide variety of the latest colors, formulas and applications. A close relationship with the fashion industry and an in-house creative marketing team keeps Prestige on top of the trends.
I was recently sent a goodie package of Prestige Cosmetics to try out.  Prestige Cosmetics is a drugstore brand, that is available at places like CVS, Wal-mart, Walgreens, etc and they carry multitude of products in a wide spectrum of colors and shades.  I actually started using Prestige Cosmetics back in 2007, when I first tried a lip liner, Freesia that I instantly fell in love with, especially the texture and of course the color.  Below are a few products that I just recently tried out for the first time. My favorite was a tie between the lipstick and the blush and my least favorite was the lash strips. I wrote a review for each product that can be found below the product picture.  Swatches are in the last picture.
"Instantly re-defines the contours of the lips for a younger looking pout. Prestige Lip Boost complex revitalizes lips making them softer, fuller, and healthier looking even after the color is removed. Helps prevent premature lines and wrinkles in the lip area with continued use." – Quoted from Beautylish.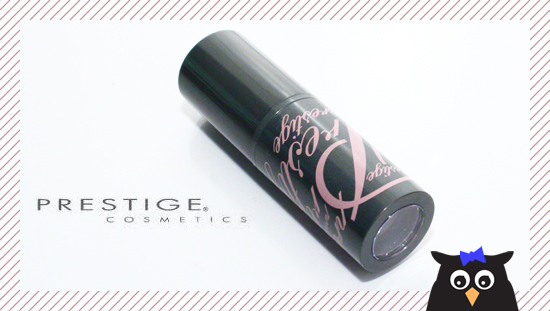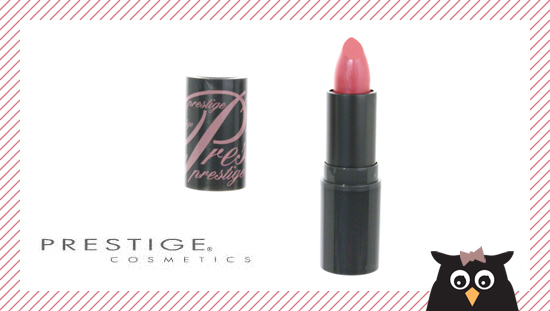 I love this pink shade.  The lipstick feels like a lip balm, and is more on the waxy side verses creamy.  The lipstick definitely did not dry out my lips and I did notice they felt a slight more moisturized after wearing it.  It wears for a few hours and slowly fades away evenly, meaning it doesn't leave a pool of color on the outer edges.  It's a light/medium coverage, but more on the opaque side.  It has a faint scent with no taste. Available online for $5.00.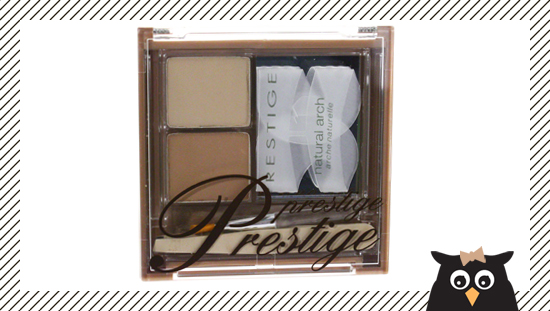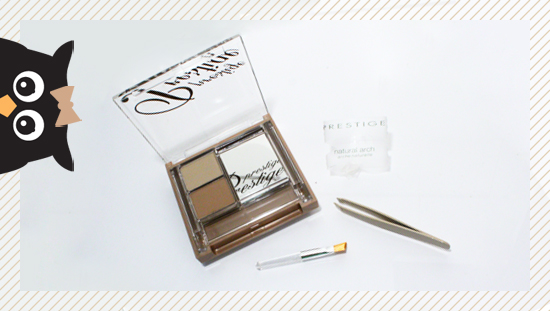 I absolutely love this little eyebrow kit. It comes with a pair of mini-tweezers, mini slanted tip brush, a foldable eyebrow stencil and two shades of eyebrow powder.  The powders go on easily and are very blendable.  I especially love the light blonde shade, as it's a perfect shade for blondes, as I tend to find a lot of blonde shades are too dark.  I still used a brow pencil in combination, as my brows are so scarce.  The brow stencil might be one of my favorite brow stencils I've ever used, because of the texture. It is a light weight plastic that I thought would be hard to hold flat to my skin. I was completely wrong, it lays down and almost adheres to the heat of your skin, but of course it's not attaching, it just makes a perfect form to your individual bone structure. Available online for $8.00.
"A multi-dimensional baked blush that creates incredible, yet natural definition for cheeks. Soft baked powder provides whisper-light feeling on skin." – Quoted from Beautylish.
I can't get enough pink blush in my life and I'm very happy to add this lovely shade to my collection.  The pink has speck of gold mixed in to give cheeks a bit of iridescence. A little bit goes a long way.  Available online for $6.00.
"Apply new super soft khol formula as a liner or shadow. Smudge with the built-in specially tapered sponge tip applicator for a soft smoky look." – Quoted from Beautylish.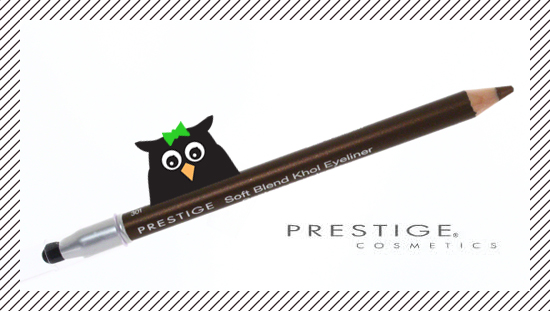 This eyeliner applies very smoothly and goes on easily.  I did use it on my water line, which is not a good idea, as I found I had eye corner blobs a few hours later, but honestly I haven't found many eyeliners that don't do that.  The shade is a dark brown and can be easily smudged with the other end of the pencil, to create the look of shadow or a smudged look.  Available online for $5.50.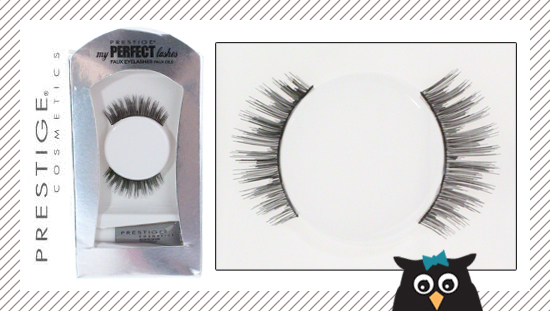 If I would consider myself an expert in anything, it would be false lashes.  I adore false lashes and wear them most everyday.  I can apply them on anyone, from someone who has never worn lashes to …well my ex boyfriend….he was my "dummy" to learn how to expertly glue lashes on, when I first starting doing makeup.  Needless to say, that relationship didn't last.  These lashes did not meet my expectations at all.  They actually reminded me of the first lashes I ever ordered off of e-bay.  Ten pairs for $5.99…I thought I was getting a bargain, to only find out what crap they were.  The strips on these are way too thick, so instead of adhering to your lash line, the inner corner constantly wants to stick up.  I did like the shape, but shape doesn't matter when half of the lash is trying to peel off.  I would not recommend purchasing these.  Could not find online, price unknown.
"Liquid Eyeliner adds drama and definition with stunning results in just one stroke! Unique fiber tipped applicator provides maximum control." – Quoted from Beautylish.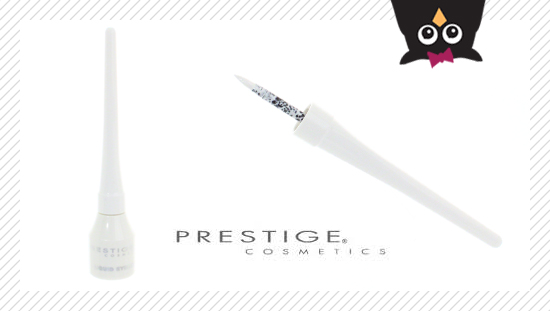 I was really excited to try white liquid liner, as I've only really used darker liquid liners in the past.  I was really impressed at how white it is, as I was expecting it to be more opaque.  I have been playing around with it and haven't quite mastered my technique yet at this liner.  I do think it would be great for extreme character make-up looks, like the creepy baby doll, where you need a large amount of white below the eyes.  It comes off very easily with just water.  Available online for $3.00.
"Maxi-Lip™ works over time to create a totally sexy bee-stung pout and encourage lasting fullness.Coat lips with this irresistibly shiny lip plumping gloss for a fuller, softer look. Feel Wonder-Full begin to work instantly with its fabulously refreshing tingle."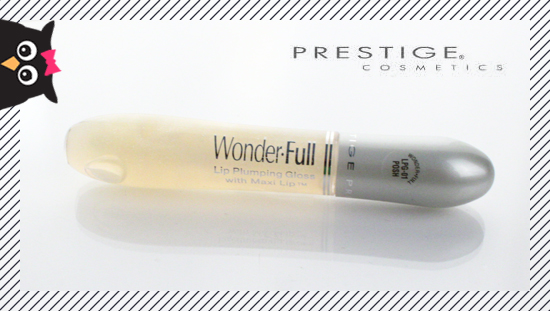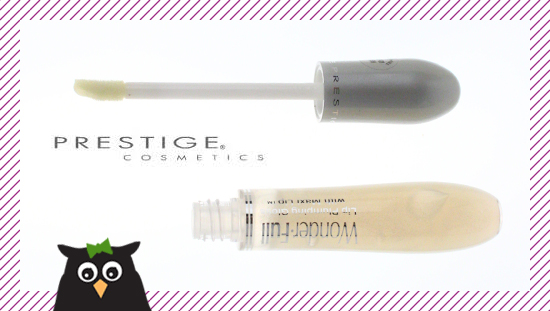 I'm always skeptical of plumpers, but this one, you can defintely feel the plump when you put it on. It looks very sparkly in the tube but when it's applied it's definitely not as sparkly and is more like a clear gloss. It's a very thick lip gloss and has a strong vanilla scent. I especially like applying it over lipstick to give a tad of gloss. It's also a great layering lip gloss, as it can be applied lightly or built up to your lip gloss thickness preference.  Available online for $6.00.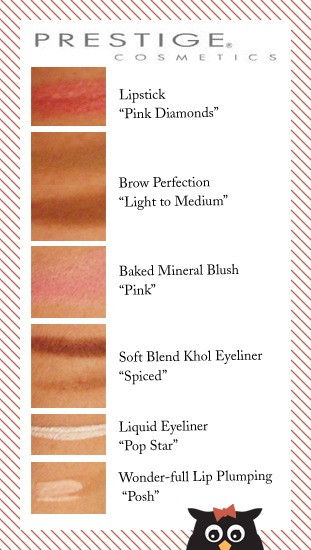 Swatches