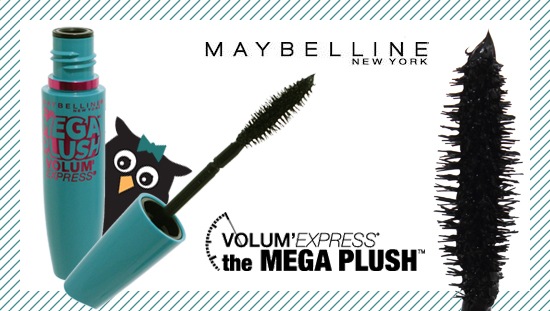 I kept seeing this mascara advertise on TV, so I decided to pick it up one day while I was in CVS. I'm not a big mascara conosur but I'm always open to the possibility of finding my "can't live without" mascara as I have yet to find one.
I must say I do like the Maybelline Mega Plush Mascara, but it's not my end all mascara by any means. I don't have a problem of oily eyelids, as I would make caution that if you do, I do not suggest this mascara.  I've read many reviews that it is not compatible with oily eyelids/lines. I purchased the non-waterproof and had no problem of it smudging or giving me raccoon eyes. The mascara does not make your lashes crunchy or hard and it comes off fairly easily with my make-up remover, leaving behind some residue.
The formula is a gel and definitely takes a bit longer to dry than normal mascara. I have very thin lashes, so not many mascaras can make my lashes look thick and long, and this one definitely didn't. I actually like mascaras to clump a tad bit, as it helps give my lashes a tiny bump of volume, but this gel formula does not clump easily and instead defines each lash. The application wand has a flex tip, which honestly I didn't even notice that much movement.
I think for $6.99 it's worth a whirl and I don't regret my purchase, especially since it didn't give me hard or brittle lashes. Didn't win me over as my "can't live without" mascara but my hunt is still on.
What's your "can't live without" mascara?