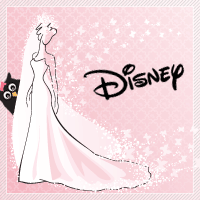 Your Fairy Tale Awaits…Disney Fairy Tale romances, first told on the silver screen, unfold in this debut collection of spectacular wedding gowns by Alfred Angelo. The dresses reflect the style and sensibility of Disney's iconic princesses fit for today's sophisticated bride in sizes 0 to 30W, at amazingly affordable prices.
When I was little I always dreamed getting married at Disney World would be magical…as it's one of my favorite places ever. I have so many fond childhood memories there and my Mom once showed me an article of the Disney Wedding Destination, which of course it's divine and I instantly just fell in love.
The designer has created a collection of wedding dresses that each represent a Disney heroine. The eight include, Ariel, Jasmine, Sleeping Beauty, Tiana, Cinderella, Rapunzel, Belle and Snow White. Since the video is a few years old, new styles have come out each year, which means there's even more beautiful dresses to choose from! It was a hard decision, but I'd have to say my favorites are the Cinderella dresses, especially the 209 and 216.
The dresses are reasonably priced too, averaging in the $1,000 – $1,500 range. To view the whole collection of dresses check out the website.
Props note: Did you know Travis Barker proposed to Shanna Moakler in the Haunted Mansion at Disney World. He apparently paid off the Disney employee to let just the two of them in the elevator and when the lights went off and came back on, he was proposing to her. I have to give props on that! 🙂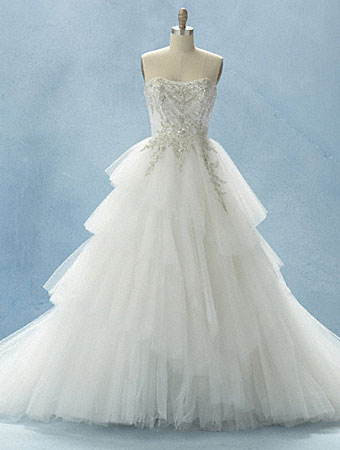 Photo © Alfred Angelo : Cinderella Dress Style 209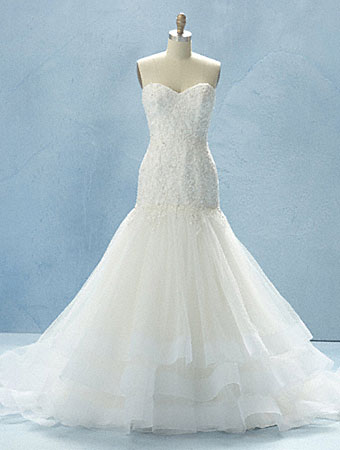 Photo © Alfred Angelo : Cinderella Dress Style 216