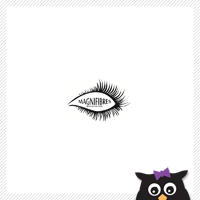 I was so excited when the lovely rep at Magnifibres contacted me and asked if I would be interested in receiving a sample of their product. Since I have the worst eyelashes of anyone I have ever come across, I immediately said, "Of course!" Magnifibres is actually not available in the US yet but widely popular in the UK. I was thrilled to try a product that isn't even available yet in this country! As I've learned the UK is the main hub of beauty bloggers and all the new and upcoming beauty products.

Magnifibres comes in a tub that looks like mascara, but when you pull the wand out, it is covered in tiny fibers. This product can be used with any mascara and is very simple to apply. First you apply your first layer of mascara as usual, but immediately after you finish, apply a layer of Magnifibres. These fibers stick to your mascara creating a surface for your next layer of mascara to bind to. Then wait about 30 seconds to a minute and apply a second layer of mascara. Since my lashes are so sparse, I actually applied a second layer of Magnifibres and a third layer of mascara in the example below.
I found that Magnifibres definitely added more volume than length to my lashes. I also noticed if you apply your mascara in a dotting motion rather than a stroking motion, the fibers were less likely to come off on your mascara brush, though some would still come off. I did apply more fibers than I normally should as I wanted to see if it would hurt…and yes, it was uncomfortable and with the fibers being so tiny, it's hard to see them on my eyeball, but they did quickly work themselves out.  When I used the product correctly, very few fibers did not adhere to either my mascara or the Magnifibres wand.
I am very impressed with Magnifibres. It comes off easily with makeup remover and I did not find that it made my lashes hard or brittle. The packaging is also absolutely adorable. For anyone that knows me, knows I'm obsessed with lash strips, but they cost several dollars for each pair and if you are in a hurry, they can be time consuming. So now to my rescue, I have Magnifibres!! It gives my barely there lashes the boost of confidence that they need. I look forward to the US launch of this product, as I know many of you ladies will find Magnifibres very helpful in your makeup routine. For more information you can check out their website at Magnifibres.com.