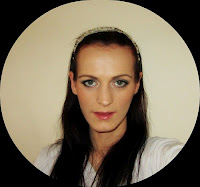 This is my first tag in the blogging world…thanks Nina!

– You must post these rules.
– Each person must post 11 things about themselves on their blog.
– Answer the questions the tagger set for you in their post and create 11 new questions for the people you tag to answer.
– You have to choose 11 people to tag and link them on the post.
– Go to their page and tell them you have linked him or her.
– No tag backs.
– No stuff in the tagging section about 'you are tagged if you are reading this'. You legitimately have to tag 11 people.
————————————————————-
QUESTIONS FROM NINA:
01. If you had a chance to be a celebrity for one day which celebrity would you pick to be?
I'd be Alexis Vogel, so that hopefully her techniques would be instilled in my brain.
02. What is your sin food?
UNO's Chicago style pizza or Intermezzo Derby Pie
03. What is your favorite scent?
Thymes Lotion: Kimono Rose
04. What is your pet peeves?
Too many too list…I get annoyed really easily.
05.  Any bad habits?
Lots.
06. Who is the one person you look up to?
This is going to sound strange…but Nancy Grace is incredible. She totally comes off as a bitch, but she's a total sweetheart.
07. If you could change one thing about yourself what would it be?
I'd have more patience….especially when driving.
08. Where is your favorite place to shop?
The internet. lol. It's a dangerous place late at night with your credit card.
09. What is your meaning of the word "Beautiful"?
The sight of anything that makes you warm and happy on the inside.
10. What is your best assets?
Definitely my hair.  I used to hate it, but after working with model's hair…I will never complain again.
11. Do you believe in the saying "Money brings your happiness"?
Money is great when you have it, and it really sucks when you don't, but true happiness comes from within.
————————————————————-
Questions for the people I tag:
01. Do you have a nickname and if so, what is it?
02. When is your birthday?
03. Fireworks or thunderstorms?
04. Are you a night owl or early bird?
05. What is your favorite perfume?
06. What is your favorite foundation?
07. What is one product that you would absolutely be devastated if they discounted?
08. Facebook or Twitter if you had to only pick one?
09. What is your favorite holiday?
10. Who is your favorite beauty / make-up blogger?
11. Post your favorite make-up look.
01. Amber: YouTube Channel
02. Elizabeth: Beauty Patootie
03. Gabriella: Haute Future
04. JoJo: JoJo's Beauty Guide
05. Jordan: Boho Vanity
06. Kelsey: Penelope's Beauty Obsession
07. Myrna: Undecided Mama 1329
08. Simera: Beauty Makeup Addict
09. Stephanie: The New Beauty Review
10. Stephanie: Beautiful Dreams
11. Teigh: Cranky Gurl's Corner
If you have already been tagged or don't feel like participating I totally understand. I don't want to be a pain in the bootie.