I went to Lush Cosmetics again this week and purchased the Strawberry Feels Forever Massage Bar and decided to take a few photos of it and create an advertisement, before I used it all up.  I love doing product photography and combining it with illustrator elements…I'm just not that good at photography yet.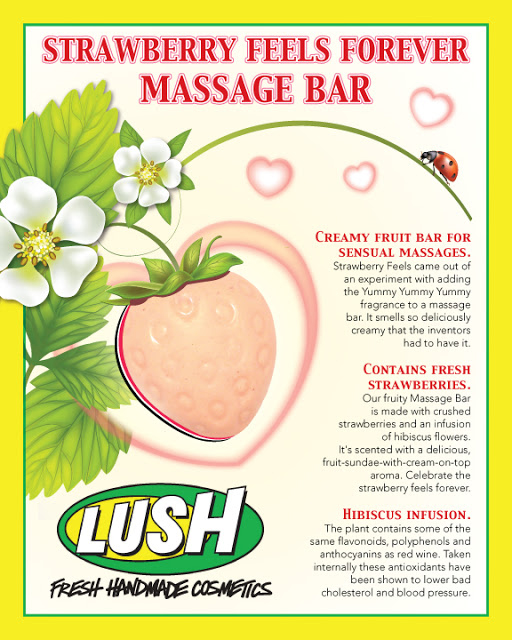 I decided to go with the Strawberry Feels Forever Bar over the Each Peach bar based on the smell, but the peach bar is the next one on the list to try.  After rubbing it all over my legs and arms I smelled like a strawberry field for the next couple of hours.  The smell does fade within a few hours, which is good because I don't think I'd be able to handle smelling like a tutti frutti all day and night.  It is a very sweet smell, so if you like sweet smells, I suggest this product for you.  The Lush strawberry scent definitely makes the Bath and Body Works Fresh Picked Strawberries Soap smell less yummy.
Even though the bar looks like a bar of soap, it actually slowly melts into a very nice oil upon getting warm and rubbed against your skin.  The oil does leave a semi-thick residue on your skin, but I was pleasantly surprised most all of it absorbed into my skin within fifteen to twenty minutes.  If you have to put clothes on shortly after application, I do suggest patting your skin down lightly with a towel, so excess oil won't get on your clothes.  I did not find that this product made my skin particularly over moisturized, nor did it dry my skin out.
All in all, I really liked the Strawberry Feels Forever massage bar and I can't wait to try the Each Peach bar, as I've heard it feels more like a lotion.  For the price (average $9.95/each), these massage bars are a great treat once in a while, but for daily application, I certainly can't afford it.