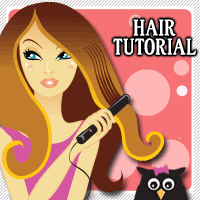 Using a Jose Eber Curling Iron and Belleza Straightening Iron.
Hair Products that I use to help create volume:
Shampoo/Conditioner: Sexy Hair – Volumizing Shampoo & Conditioner 
Newest favorite hairspray: Blow Pro – Serious Non Stick Hair Spray
It has great hold, but isn't sticky.
My other favorite hair spray: TIGI Bed Head – Head Rush. But it's more like a shine spray than a hair spray.
And don't laugh, but I've also heard the Japanese Bump Its are great for creating volume.
They are velcro based….not Snookie endorsed. lol.