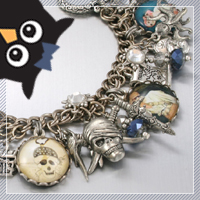 I know this post has nothing to do with make-up, but I've decided I need to start writing content to go along with my blog.  🙂
I started searching charm bracelets this evening….which I have had an obsession with since I was young.  My first charm bracelet was one of the 80's neon, plastic bracelets with the most ridiculous charms you can imagine…ranging from a toothbrush to an anchor. (I've been a random individual, even at a young age.)
When I was about ten years old, my mother bought me a silver charm bracelet and each time we would go somewhere special she would buy me a charm.  For instance we went on vacation one year to Disney World and I got a Tigger charm.  Another year we went to The Chattanooga Choo Choo and I picked out a train charm.
Not only was picking the charms fun, but then I'd get to go visit one of my favorite stores, The Silver Armadillo, which did the silver soldering. And yes, they had a real armadillo in the front window and my mother and I would browse around for twenty minutes while they attached my new charm to the bracelet. I still have this bracelet and will forever treasure it and the memories it holds.  This store is also where I became obsessed with some mineral called Ulexite or as we called it "a TV rock".  [random fyi about me]  A mineral rock that has a transparent appearance, so you can place objects behind it and see the image through the rock…now being older, I can see why my Mom was unimpressed, but at that young age I thought it was pretty damn cool.
My next favorite charm bracelet I purchased at MetroPark and it was filled with skulls, guns and hearts.  I wore this bracelet everyday, until one evening, where alcohol was involved, the clasp fell loose and it fell off my wrist without me realizing it, until it was too late.  I've searched the internet high and low for a duplicate or something similar, but have been unsuccessful.
(Photo copyrights: BlackberryDesigns/Dea Shelton)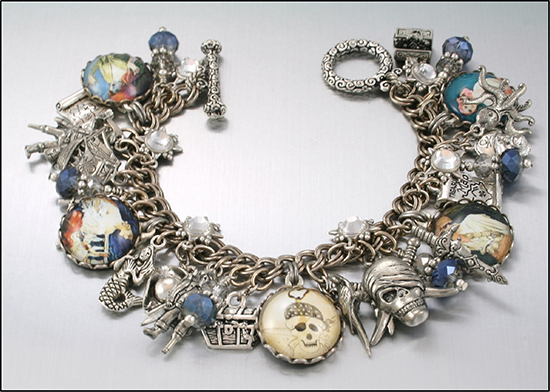 I was browsing again tonight and came across these beauties on Etsy. These are handmade by Dea Shelton of Blackberry Designs. Each one of these bracelets is so uniquely crafted and absolutely gorgeous.  I definitely put this on my wish list for 2012.
Take a look at her bracelets and let me know which one is your favorite (leave the link) ….as I'm always keeping my eye out for good giveaway prizes. (I'm learning, as this blog goes forward, that I need to branch out to more than just make-up.)